Our new Retail Reimagined series examines how traditional formats would look if they were designed now. Here, Becky Waller-Davies sketches a new vision of the department store.
No other type of retail business has suffered as much as the department store. The glamour and excitement formerly associated with the format is long gone and nowadays just a few department stores worldwide retain their cachet.
Thousands of others languish in the doldrums, midway through a turnaround or grappling with paying the rent on their costly store estate.
But what if you could sweep away all those problems? What if you could banish the legacy store estates, the damaged brand equity and the discount days, and start afresh? Retail Week took a metaphorical blank sheet of paper and designed a department store for 2018.
Searching for meaning
The golden age of the department store was during the interwar and post-war years when the notion of the citizen as a consumer was beginning to emerge.
"Department stores were temples of acquisition. They carried a wealth of goods and consumers were mesmerised by the new and abundant"

Trevor Hardy, The Future Laboratory
"Department stores were temples of acquisition," says The Future Laboratory chief executive Trevor Hardy. "They carried a wealth of goods and consumers were mesmerised by the new and abundant."
Since then several factors have changed the fate of the department store.
The first, most often talked about, way in which the format has become irrelevant is the internet. Now, consumers can perform the same task they used to in-store faster and more easily on their sofa with a smartphone.
The second, less discussed factor is that most consumers no longer need or want as much stuff as they did in the mid-20th century.
Designed around needs
What we need, Hardy asserts, is not more but less. While that is anathema to most retailers, it is worth considering.
"Department stores are multi-branded spaces but they also try to be fulfilling spaces. Right now, they are trying to fulfil a whole list of needs. But what if they could just satisfy one need, through products and services?" asks Hardy.
He lists four areas people are currently pre-occupied with:
wellbeing;
learning as a life-long activity;
entertainment; and
the burnout much of the Western world has become used to.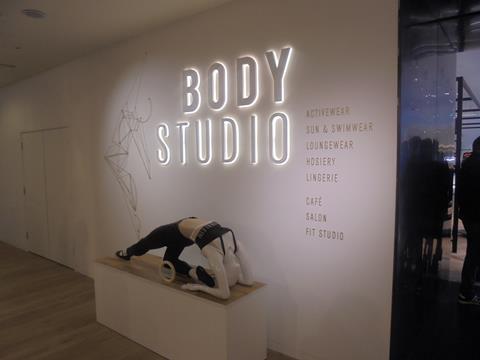 Hardy believes retailers could pair services with products and design stores around these themes.
One scenario might be a store centred around the chronic need for rest and sleep felt by most of the adult population in the developed world.
The store could include sleep pods – like the ones installed in New York outlet NapYork earlier this year – and aromatherapy mixing rooms where shoppers could have relaxing bath oils made personally for them, with consultations for struggling sleepers.
The store could also house a pyjama emporium with monogramming at a personalisation desk; bed linen, pillows and duvets picked by consumers and delivered home by bedtime that evening; and an electricals department selling products such as daylight alarms.
It is a radical departure from the preconceived notion of a department store but totally tailored to a specific need and offering much more than Amazon ever could.
Personality and perspective
"I think catering to needs such as wellbeing can be part of it but I don't think it is the solution," counters Andrew Jennings, a veteran of department stores such as Debenhams, Harrods, House of Fraser, Saks Fifth Avenue and Karstadt.
He believes the ideal department store for 2018 is a business with personality and perspective.
"If you don't stand for something you stand for nothing. This is why a lot of department stores are failing – they don't stand for anything"

Andrew Jennings
"If you don't stand for something you stand for nothing," he asserts. "This is why a lot of department stores are failing – they don't stand for anything.
"Retail has always been about newness and innovation. You have to constantly have excitement. The business of the future will be a retail playground with everything from eateries to experiences. It's about making statements."
However, this kind of excitement is not about simply sticking a Champagne bar in every store.
Instead there's a consensus among experts that department stores should be one-offs, or have limited estates.
Jennings believes premium 'trophy' stores – today's examples being Harrods, Liberty and Selfridges – will win out, while former Selfridges chief executive Peter Williams, now chairman of Boohoo, cautions: "You can execute theatre in a limited number of places but if you try to do it in 20 stores, let alone 100, it's really hard to execute it with the same energy and professionalism."
"The days of having a big store in every medium-sized town is over," agrees former Selfridges marketing director James Bidwell, now co-founder of consultancy Re_Set.
The word 'theatre' crops up again and again when speaking to experts about what 2018's department store should be like. But it's not in the usual, intangible 'retail theatre' sense.
They are talking about flexibility and the idea that the department store should be as adjustable as a set, with its offer changing as frequently and drastically as in a theatre.
"Part of the problem with the format is that it is very fixed. But this is prime real estate – imagine how that could be used to re-engage with consumers"

Tarek Nseir, TH_NK
Tarek Nseir, founding partner of digital transformation agency TH_NK, says: "Part of the problem with the format is that it is very fixed. But this is prime real estate – imagine how that could be used to re-engage with consumers.
"It could be a highly adaptable and flexible space – a platform for brands, emerging talent and premium services that would change on a regular basis."
Alison Cardy, managing director of design consultancy HMKM, goes further, pitching the department store as a blank canvas transformed by moving pieces, revolving floors and lighting rigs as the products and services in it change.
Underpinning this physical transformation would be a network of technology geared towards making the customer experience more personal and convenient.
This could include AI-powered payment devices so people avoid queuing or self-scanning, and instead walk out the shop by taking a picture of the product they want and receiving a push notification as a receipt, or kitting out store assistants with voice-activated headsets, allowing them to ask for and receive product information or stock availability almost instantly.
"Digital is the fabric that glues the customer journey together," says Nseir. "Department stores now are talking about RFID and digital mannequins but that is evolution, not revolution. It is bits of tech in a traditional space. Of course, something like a magic mirror can be part of the shift but it won't create it."
He suggests one facet of using tech to revolutionise the store would be bringing together click-and-collect and fitting rooms.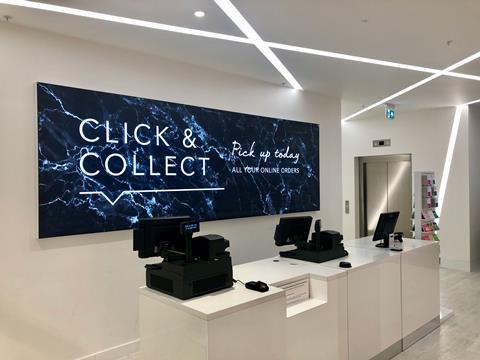 "I am dumbfounded at how archaic click-and-collect is. The department store should have an amazing fitting room experience. Customers could pre-book products into a changing room – that is a genuinely personalised experience."
Brand power
Brands and department stores have traditionally gone hand in hand but a rethink is in order, says Dalziel & Pow co-founder and creative director David Dalziel.
"It is lazy to give space up for brands to run," he argues. "The concession model essentially has department stores selling space and that is a huge issue. When you give 4m to Levi's, 4m to Ted Baker, there is no flexibility. The department store needs to have more of an opinion on what they want."
Department stores should act as curator, bringing in brands depending on the season's trends or major events in the calendar and using their influence and relationships to organise, for instance, a Riviera holiday theme or a roster of up-and-coming fashion brands to get people festival-ready.
Aside from being brand-agnostic, which experts universally agree on, there should be no hard and fast rules on how to organise a fashion floor, Nseir says.
"Retailers need to test and learn and understand how customers are engaging," he says. "There may be plenty of cause [to organise products by] menswear, womenswear, kidswear. But it may also need to be mixed and organised by occasion or trend. That's why flexibility is so important. The only essential is the need for constant change."
Among the fashion floor should be personalisation stations. They could include technological advances such as changing room mirrors that send pictures to your friends, an embroidery desk or a denim fitting studio that allows a pair of off-the-peg jeans to be tailored to your figure.
Festival fashion could be accompanied by workshops, while a Riviera theme could offer to personalise oversize straw hats or the currently in vogue wicker bags.
Dalziel believes the same brand-apathetic principle should apply to the beauty hall. "The beauty hall is great on the ground floor but it is often quite static," he adds.
"And the best of beauty is always really vibrant. It is wrong that beauty houses own the square footage rather than have the multi-brand approach that is needed."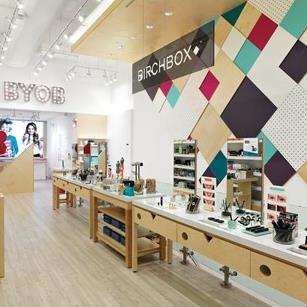 Rather than organise by brand, a beauty hall should reflect a customer's shopping journey.
If they want to solve a particular skin problem or find a great lipstick then the beauty hall should be organised via function or need with services added in: facialists sitting within skincare or magic mirrors able to show customers what they'd look like in an array of shades without having to self-consciously scrub lipstick or eye shadow on and off.
No room for homewares
While beauty and fashion remain crucial categories for the modern department store, the homewares department is under threat.
Dalziel argues discretionary homeware purchases could be mixed in among fashion, but that the bigger-ticket department should be axed.
"Homeware and electronics can clash with the experiential, fluid notion of the department store," Nseir affirms. "They are naturally quite compartmentalised; much of it is needs-based shopping so perhaps it needs to be sold via a digital platform or in a more functional space."
"The mere title 'home department' sounds sedentary," argues Cardy. "Department stores should banish the title. You don't necessarily need to can the home offer but the whole way to merchandise and sell would be completely different: create an intriguing story that better describes the product.
"Who would have thought the Body Studio at Selfridges could be an extraordinary destination for classes, food, athleisure and lingerie?"
Food and drink
Any food and beverage offer should mirror the ever-changing nature of the store itself, steering away from known chains to opt for up-and-coming food offers such as a Kombucha bar, a 'bleeding' vegan burger restaurant or a Hawaiian poke bowl offer.
Nseir says: "A food hall should feel like a day festival every time you visit and the department store should curate the experience and give a platform to emerging talent in the restaurant space. Those are the things that get talked about and which people keep coming back to. We crave new experiences."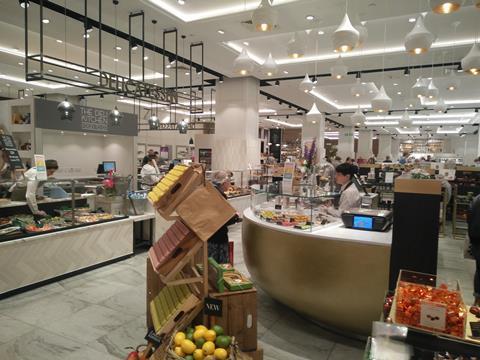 Any food offer could also be matched to theme, Cardy adds. "Food and beverage should be relevant to product. For instance, if you are doing athleisure then do juices and power balls and protein shots. Curate the food and beverage to the location."
Ultimately, the department store in 2018 needs a sense of theatre, thoughtful curation, a decisive point of view and rapidly changing services and products. It needs to cast aside the old certainties of concessions, categories and sales per sq ft.
"The very definition of the department store as departments full of products has finished," says Bidwell. "It is completely out of date. But the notion of the market, which is where the department store started, is still valid."
Department stores once helped a mid-century consumer feel comforted by new-found prosperity. Now, down on their luck, they need to once again bring people what they crave. Gift-wrapped if possible.
Retail Reimagined: How traditional formats might look if redesigned today
1

2

3

4

5

6

7

8

Currently reading

​Retail Reimagined: The blueprint for department store 2.0