Male dancers don stockings to open Fenwick's new hosiery department, Kingfisher boss Veronique Laury pays regular visits to the bathroom as part of her new role and Lidl creates celebrity eggheads for its Easter campaign.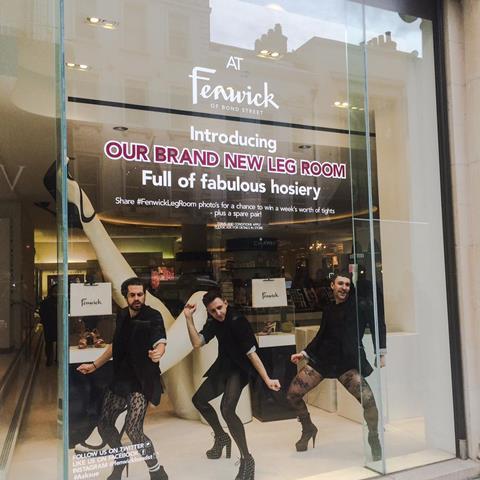 Fenwick dancers enjoy a knees-up at hosiery launch
We're not pulling your leg – three male dancers really did don stockings to take part in an eyebrow-raising knees-up to mark the opening of the new hosiery department at Fenwick in London's Bond Street.
Not to be outdone, staff at the retailer sported a host of bold and bright socks to celebrate the introduction of the new range.
The store's new hosiery department features around 50 different shades of legwear, socks, knee-highs and stockings. That must be a pretty tight squeeze.
Going to the bathroom all part of the job for Laury
Veronique Laury has spent her first weeks as boss of Kingfisher taking snaps of people's bathrooms.
Her phone is bursting full of pictures of people's showers, she told journalists over a lunch following the company's preliminary results.
Luckily for investors she has not lost the plot and there is method in the madness. While travelling around the globe visiting Kingfisher's management Laury has taken the opportunity to check out customers' bathrooms. The conclusion is that wherever you are in the world everyone's bathrooms are very similar.
She also unearthed that the average four-person house has 26 shower gels and shampoos.
Lidl artists create celebrity eggheads
Comedians Alan Carr and David Walliams, and pop star Ed Sheeran all had egg on their faces – or their faces on an egg, to be more precise – after becoming impromptu participants in Lidl's Easter marketing campaign.
The discounter launched the #EggMyFace promotion on social media ahead of the Bank Holiday weekend, giving its Twitter followers the chance to become a chocolate egghead.
Lidl's in-house artists were inundated with requests from shoppers, but still had time to create a handful of A-list Easter treats.
The cracking chocolate creations seemed to melt the hearts of tweeters. Could Lidl persue personalised Easter eggs as a new area of eggspansion?