A boar runs wild in a Hong Kong retailer, Greggs kicks up a stink to tackle homeware and House of Fraser takes over the red carpet.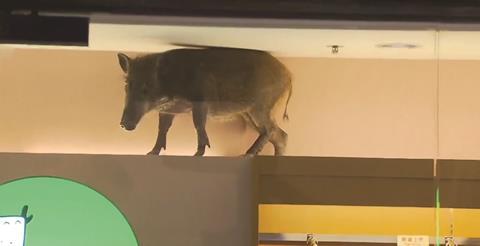 Boar's animal antics in the shop window
We've all heard the one about the bull in a china shop, but what about the boar in the children's clothing shop? That's exactly what greeted shocked onlookers at the Paradise Mall in Hong Kong when the unusual visitor broke through the false ceiling of the Kingkow store. The wild boar caused chaos, running around the shop and leaving mannequins and signage in its wake. Crowds of shoppers and a local TV news crew stopped to capture the animal's antics as police created a makeshift cordon around the store. The boar was eventually tranquilised by a vet and taken to an animal rehab facility. Having failed in retail, maybe the boar will move into squeal estate.
Greggs kicks up a stink to take on homeware retailers
Warning all homeware retailers: there's a sizzling new player in the home fragrances market. As room sprays, diffusers and scented candles fly off the shelves ahead of summer, an unlikely business has entered the fray, armed with an even more unlikely aroma. Bakery chain Greggs has kicked up a stink on social media after launching its unique take on the scented candle, the 'bacon sandwich scent from heaven.' Dubbed as 'the nation's favourite smell to wake up to,' the candle will compete with a Kentucky Fried Chicken version, which was released by the fast food giant last week. But which one will bring home the bacon?
Red carpet gets a House of Fraser makeover
Gucci? Prada? Louis Vuitton? Those were just some of the designer labels pushed to one side as a clutch of TV stars chose House of Fraser to provide their glamorous outfits at the BAFTAs. The department store, which was the title sponsor for this year's awards, saw its outfits and accessories paraded by the likes of actresses Michelle Keegan (pictured), Denise van Outen and Sheridan Smith, pop divas Rochelle Humes and Sophie Ellis-Bextor, and TV presenters Laura Whitmore and Kate Garraway on the red carpet. If their threads are anything to go by, any prizes for best dressed would have been as hotly contested as the awards themselves.