"Every adversity, every failure, every heartache carries with it the seed of an equal or greater benefit."
Those words, coined by American writer Napoleon Hill around a century ago, have never been more relevant to the retail industry than they are today.
Since the start of 2018, New Look, Select, Carpetright and Mothercare have launched company voluntary arrangements (CVAs) in a bid to right-size their portfolios and slash rents.
Maplin and Toys R Us have tumbled into administration with the loss of around 5,500 jobs – and Poundworld is poised to go the same way after Alteri pulled out of talks to rescue the business from looming oblivion.
"House of Fraser's closures could provide embattled Debenhams with some welcome oxygen"
The launch of House of Fraser's CVA proposals this morning marked another dark day for British retail, with 31 gaping holes potentially to be left in the high street and 6,000 jobs likely to be lost.
But even as dark clouds linger above the high street, silver linings can be found – and Hill's words should be echoing in the ears of Debenhams boss Sergio Bucher in the wake of House of Fraser's plans.
Given the sizable impact on jobs, Debenhams has rightly remained tight-lipped on the opportunities that could now come its way.
But as Bucher bids to kick-start his transformation plan, House of Fraser's closures could provide embattled Debenhams with some welcome oxygen.
Data from property consultancy Harper Dennis Hobbs suggests Debenhams is present in 17 of the 31 locations where House of Fraser plans to shut stores.
Instantly, there is an opportunity for Debenhams to capture some of that consumer spend and provide a much-needed boost to a bottom line that plummeted 84.6% to £13.5m – on a reported pre-tax profit basis – in the 26 weeks to March 3.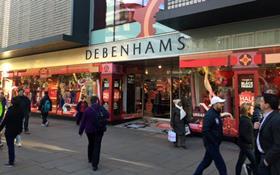 Debenhams' new Wolverhampton store, which had already enjoyed a solid start, now only has Marks & Spencer to contend with as far as department store rivals are concerned – and there is a similar tale in Doncaster, Hull, Swindon, Telford and Worcester.
M&S, for its part, will also be grappling to snap up trade, with full-line stores in 26 of the 31 locations House of Fraser is pulling out of, but Debenhams' multi-brand proposition arguably puts it on a better platform from which to woo shoppers.
However, Debenhams is going to need far more than improved performance at 17 stores to revive its fortunes and rebuild a share price that has virtually halved to 20p since the start of December.
Bucher is shaping his 'Debenhams Redesigned' strategy around online growth, "social shopping" and the formation of partnerships to bring "exciting new products and services" to shoppers.
It is in the latter where House of Fraser's closures could further aid his efforts.
Although its proposition is far from perfect, House of Fraser stocks well-regarded brands that could conceivably be reviewing their relationship with the business following today's news.
"New concession partners would breathe life into Debenham's offer and allow it to attract a wealthier customer"
Take Ted Baker as one example. The brand sells a good range of menswear and womenswear through House of Fraser stores, but only childrenswear, lingerie and accessories at Debenhams. It could see an opportunity to build a concession business with Debenhams instead, should it feel there is the chance to sell stock in greater volume.
The same could be said for Joules, White Stuff and Ralph Lauren.
For Debenhams, such new concession partners would breathe life into its offer, allow it to attract a slightly wealthier customer and help fill the void being left by House of Fraser in some retail centres.
If it can do that, Debenhams could start to build trading momentum in its turnaround efforts – and benefit from House of Fraser's adversity.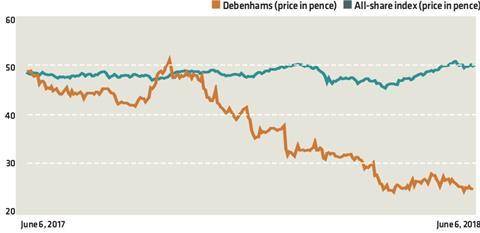 Luke Tugby is deputy editor at Retail Week.