There had been rumours that investor unrest at Debenhams would claim the scalp of its boss, but is that the real reason for Sharp's exit?
Ahead of yesterday's finals, there had been growing rumours that the recent and well-publicised investor unrest at Debenhams would claim the scalp of the chief executive Michael Sharp.
But at first sight, this week's statement seemed to brush that aside, with Mike saying: "We have delivered profits in line with market expectations, reflecting further progress against our strategic priorities. We have had an encouraging start to the year…"
Then a couple of minutes later up popped a separate statement on the screen, headlined "Debenhams announces that Michael Sharp intends to step down in 2016 after five years as chief executive", in which Mike said: "I hope being transparent about my intentions will stop recent speculation becoming a distraction" and, with the key Christmas trading period coming up, shareholders will wish him good luck with that.
But exactly when he decided that five years as chief executive would be enough is unclear, as he is only 58 or so, and the embattled chairman Nigel Northridge does not appear to have tried very hard to persuade him to stay on, despite the warm words about "the good progress the company has made under his leadership".
Succession plan
Exactly when he intends to step down in 2016 is unclear (his five years in office is not up until early September 2016) and who will take over as chief executive is also unclear.
If the chairman means what he says ("The board are confident we have a clear and effective strategy") then the obvious internal candidate, trading director Suzanne Harlow, will be in with a good chance, but if Debenhams decide in the end to pursue a different strategy then an outsider will probably be brought in.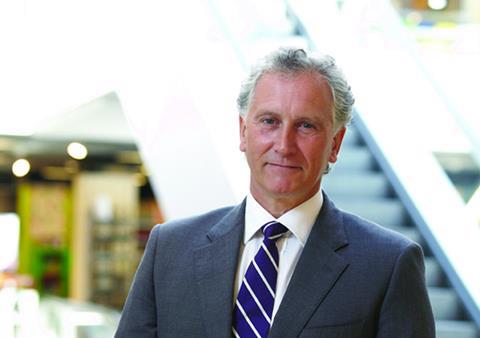 Oddly enough, the analysts at yesterday's results meeting were far too polite to ask publicly about the motivation for the management news, although the veteran analyst Tony Shiret got a laugh by saying that the company was "a right pig" when Mike Sharp took over as boss and that he should be congratulated for improving the business.
It is, of course, not long ago that the wags mocked Debenhams for being "Never Knowingly Not On Sale", but the addiction to discounting began back in the 1990s under US boss John Hoerner and Mike Sharp has tried to wean the business off this habit over the last year or so.
In passing, it is worth noting that Mike's predecessor as chief executive, Rob Templeman, decided back in early 2011 that the heir apparent Angela Spindler would not be a suitable replacement after all, given the fragile state of consumer spending after the financial crash, and that "a trader" should get the job.
Old trader, new tricks
In 1997, Mike moved across from the old Burton Group/Arcadia to become trading director of Debenhams and in 2004 was appointed chief operating officer of Debenhams, before being promoted to be deputy chief executive in November 2008.
If he was seen as "an old-fashioned trader" back in 2011, then it's fair to say that he has learned a few tricks since then, given the burgeoning online and multichannel capability of the business and the growing International presence of Debenhams.
"Like football club owners, those investors who rage about poor results often call for the management to be changed"

Nick Bubb
But share prices tell a story and although Mike could claim that the shares were little more than 50p to 55p when he took over that's only because of a spell of weakness on the back of worries about early autumn trading. More broadly, the fact is that the shares have been stuck around the 70p to 80p mark for a long time (notwithstanding a spike up to 120p in November 2012) and long-term shareholders are entitled to grumble that Debenhams has not been a great investment.
However, caveat emptor, as they used to say in the City, and perhaps those people who bought the shares four or five years ago should have realised that the growth of online sales would cannibalise the physical store business of Debenhams and undermine profitability, given the high fixed costs in a department store business (just as it has done at House of Fraser and John Lewis).
To be fair, the year to August 2015 saw some modest progress in tackling those P&L challenges at Debenhams, with a recovery in profits to £113.5m, but let's not forget that the year before had seen underlying pre-tax profits fall by over 20% to £110m.
Like football club owners, those investors who rage about poor results often call for the management to be changed, but it's not obvious that anybody else could have done that much better, given the structural and competitive pressures on the business.
And Mike Sharp is quite entitled to think that, as he approaches the ripe old age of 60, he'd rather be doing something else with his time.
Nick Bubb is an independent retail analyst