Debenhams deputy chief Michael Sharp might keep a low profile – he hasn't given an interview in three decades – but behind the quiet exterior is a highly driven man. Amy Shields meets him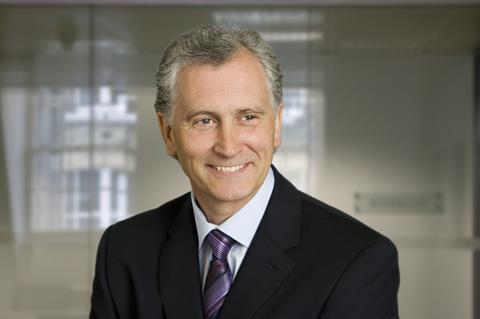 Interviewing Debenhams deputy chief executive Michael Sharp is like gaining a crash course in department store retailing.
In offices tucked away in the recesses of Debenhams' Oxford Street store, Sharp outlines his vision for the retailer. An hour is not long enough.
It is the first interview that Sharp has given in more than 30 years of retailing. His career includes stints in buying at Topshop, Topman and Burton, as well as running Principles and Racing Green. But it is at Debenhams – where he took up the role of trading director in 1997 – where his passion lies and where he says he will probably end his career.
"I am a Debenhams man. I am very, very committed to this," he says, with a calm intensity that characterises the interview.
There is no denying that Sharp's experience – which includes trading through three recessions – makes him well qualified to drive Debenhams through its next phase and beyond.
"In some respects this tough trading climate actually suits our business and it suits our style of retailing and management, in that we are very hands-on, very focused on generating cash and cash margins," he says.
"It's about trading aggressively and making no apologies at all for being promotional, because actually that's what customers want."
The management at Debenhams comprises a well-respected team including chief executive Rob Templeman and finance director Chris Woodhouse. Suzanne Harlow became group trading director in November 2008 at the same time that Sharp took on his current role.
This followed the departure of former George at Asda boss Angela Spindler, whose exit after only a year at the retailer surprised the City. Sharp took on her responsibilities – including e-commerce and marketing – and speculation abounded that he was being lined up as Templeman's successor.
Sharp says: "Rob has made it perfectly clear that he is fully engaged and planning to stick around and I have to say I am very cool about that."
He adds: "I thoroughly enjoy working with him and for me, what is important is that I enjoy what I do as a job and that I stay focused on that."
Would he grab the opportunity to become chief executive if it arose? "Yes," comes the swift reply.
Sharp began his retail career in 1976 on the Sears corporate management scheme. He says he has always carried an "imaginary toolbag" with him, in which he stores the "good bits" of the people he has worked with, "moulded" to his own quiet, determined style.
Templeman is in the bag – "he has to be really", jokes Sharp – for "his ability to look around corners, namely to see what's coming well in advance and for asking yourself what might be coming. It's a great ability."
He also cites former Topshop boss Steve Longdon for "having big, audacious goals and making things happen", and retail stalwart John Horner for his vision in laying the foundations of Debenhams' current form.
Debenhams has evolved since, recently undergoing a £323m fundraising, enabling it to pay down debt and amass a £250m war chest for acquisitions. The debt had weighed heavily on Debenhams' share price since it floated in May 2006.
Sharp says: "I think that in the past people might have thought: 'Great results, great management, great strategy; shame about the debt' – but that shame about the debt has gone. To have raised that level of money has been a major feat," says Sharp, who defends the fact that only 30 per cent of shareholders took up the issue.
He says that Debenhams "never assumed" that private equity houses TPG and CVC would take up the offer, nor did it come as a surprise when CVC sold down their stake to 2 per cent.
"CVC's selling down and TPG's stance on not taking up the offer shouldn't be construed as a judgement on their confidence in Debenhams because those guys could have exited a year after the IPO and traditionally, the way that their funding and investment strategy works is that they are not holders for the long term," he says.
Confidence brims among the Debenhams team. Sharp, whose passion is product, says Debenhams has reached a key point as it rebalances its product mix and ups its own-bought offer to gain market share and sales densities in the current climate.
"In today's marketplace there is no room for sameiness," says Sharp.
The retailer will move 450,000 sq ft of space away from concessions to own-buy by September, whereby 85 per cent of space will be own-bought.
The decision was taken as a number of concessions – including Principles – failed and the retailer has seen an improving strength in own-buy. Designers at Debenhams reported an 11 per cent sales uplift in the half to the end of February.
"The concession model works, as long as the concession sales densities are significantly ahead of own-buy," says Sharp. "If they don't, you get to the point where own-buy gets significantly more profitable."
Sharp says that Debenhams works closely with concessions to ensure the best working relationships for both. "The point we are trying to make is that we are not at war with concessions," he says. "We have got some fantastic concession relationships. What we are looking to do is be more in control of our own destiny.
"We've now got to the point where the concessions we are currently working with are the ones we want to go forward with and we have got a growing own-buy business, so how we are going to get a quart into a pint pot is really quite a nice problem to have."
He cautions, however, that there is always work to be done. "I look at our business and I think: 'My footwear business is not big enough. I am not happy that I don't sell enough knickers relative to bras. Why is my tailoring not as strong as it could be?' You are never at a point where you say: 'I have got it right'."
Sharp approaches his new responsibilities with an equally pragmatic stance. He says: "We now need to challenge ourselves with digital and social networking in terms of how we spend our marketing money based on how people are coming to us.
"The route that people come to you as customers is much more convoluted than it ever was. It is very difficult in these times to justify what I call brand-building marketing that might be for the longer term. It's got to be more reactive."
Sharp says that trading patterns have "never been as volatile as they are now or as unpredictable".
"I think that we are in the eye of the storm in terms of the recession," he says. "I think that any talk of green shoots is totally premature and inappropriate. The biggest single concern is the sheer levels of unemployment, and potential unemployment, and the impact that has on consumer confidence and therefore people's desires in terms of their ability to spend in the stores."
He thinks that the situation will not change for some time and that 2010 will be "really challenging". Things can never go back to the way they were. He adds: "Retailing changes and evolves on a daily basis and periods like this become milestones in which you get seismic changes. Businesses fail and disappear, some get strong. It's never the same; it just changes everything."
He says that Debenhams' strength lies in the experience of its teams, which react quickly to change. "There is no room for dillydallying," he says. "The speed of the market punishes those who sit on the fence."
Sharp describes Debenhams – which has 144 UK department stores, 10 smaller-format Desire fashion stores and 49 overseas branches – as "immature" in terms of store numbers. The retailer wants 240 shops in the UK and 100 overseas. New stores and store refurbishments have performed well, Sharp says.
However, Debenhams' immediate expansion plans, like other department store businesses', have been foiled by the faltering property pipeline. "We have demonstrated over the last few years that we have grown through sales growth, existing stores, building new stores and acquiring stores," he says. "Roches and Allders were prime examples of that. I think that would demonstrate that we are more than capable of picking up stores if they were to come our way."
But Sharp quashes rumours of a House of Fraser takeover with a firm "no".
So what does Sharp make of other recent reports linking him to former colleague Sir Stuart Rose's chief executive position at Marks & Spencer?
"The chances of me going to Marks & Spencer are about as good as Bobby Charlton coming out of retirement and being goalkeeper for Manchester City. It just isn't going to happen," he laughs.
The ambitious Sharp – who admires the Co-op for "quietly getting on with it… They didn't blow any trumpets, which I quite like" – ponders whether his similarly below-the-radar approach has hindered his career.
"Maybe in some respects that has been a disadvantage for me, in that I am not a high-profile retailer. I am not focused on politics, publicity and socialising, which ultimately finds you out. I have this 'keep flapping, don't look down' theory.
"In retailing there are lots of big egos and I am not a big ego, I roll my shirtsleeves up and get on with it." And the driven Sharp clearly sees lots still to do at Debenhams.