M&S to shutter around 60 clothing and home stores
The retailer's interim pre-tax profits nosedived 88.4% to £25.1m
Clothing and home like-for-likes fell 5.9% during the half year
Marks & Spencer will wield the axe on around 60 clothing and home stores over the next five years after its half-year profits tumbled.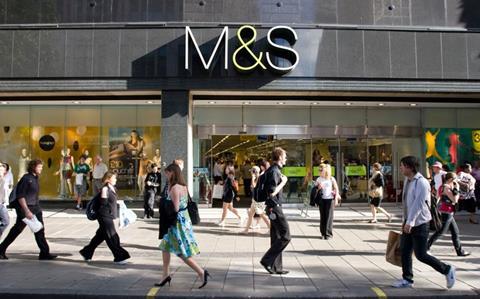 The retailer's boss Steve Rowe has unveiled plans to increase the focus on its food business and open "more inspiring" stores in his bid to transform the stuttering business.
The changes will include the closure of around 30 stores, while approximately 45 further full-line shops will either be downsized or converted into Simply Food stores.
M&S's current woes were laid bare this morning in its latest financial update, as statutory pre-tax profits nosedived 88.4% to £25.1m in the 26 weeks to October 1.
Underlying pre-tax profit fell 18.6% to £231.3m as group sales climbed 0.9% to £4.99bn.
Its ailing clothing and home division struggled again, with sales slumping 5.9% on a like-for-like basis during the half year.
Total sales in the embattled category were down 5.3%.
By contrast, M&S said same store food sales dipped 0.9%, while total food sales jumped 4% during the period.
However, Rowe said the retailer has seen "early signs" that efforts to recover sales in clothing and home were bearing fruit, after "restoring price integrity".
Store closures
Despite those green shoots of recovery sparking volume gains, Rowe said the high-street bellwether would shutter around 60 general merchandise stores in order to provide "a robust foundation for future growth".
The retailer will also exit 10 loss-making international markets, at a non-underlying cost of between £150m and £200m, but said it would "continue to develop our presence" overseas through franchise partnerships.
It currently has 267 franchise stores in 34 markets, plus joint ventures in Greece and India.
Rowe said: "We have now completed a forensic review of our estate both in the UK and in our International markets.
"Over the next five years we will transform our UK estate with circa 60 fewer clothing and home stores, while continuing to increase the number of our Simply Food stores.
"In the future, we will have more inspiring stores in places where customers want to shop that complement our growing digital offer."
M&S said it had streamlined its fashion proposition, with 10% fewer clothing lines, with availability up eight percentage points during the launch of its autumn ranges.
New layout
The retailer has also changed the layout of stores in a bid to reflect the shopping habits of its customers, grouping product categories rather than brands together.
M&S will remove its Indigo, Collezione and North Coast sub-brands in order to focus on developing its Autograph, per una and Blue Harbour propositions.
In food, M&S opened 21 net new stores during the half year, with new Simply Food stores exceeding sales expectations by 17% as the business continued to gain traction.
The retailer said capital expenditure for the full-year is now expected to be £400m, but said other forecasts remain unchanged.