John Lewis is poised to step up its focus on store-based omnichannel projects next year in a bid to make its customer offer more personalised.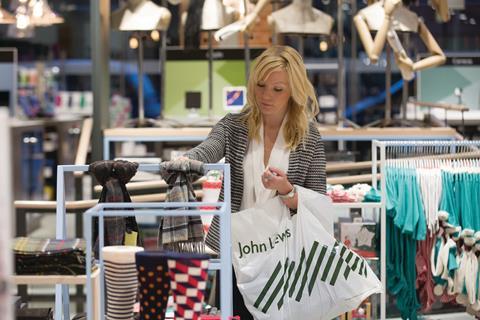 John Lewis has been rolling out transactional tablet devices to store staff, but has also now developed an app that will help them sell, and which will be used to collect data on in-store buying habits.
Store staff will use the tablets to help shoppers decide what to buy, and their data trail will be collected in the same way as it is when shoppers buy online.
John Lewis retail director Andrew Murphy said: "We are interested in understanding more about trying to capture customers' browsing journey in-store.
"For example if someone's in store looking for a washing machine, a sales assistant can talk them through the selling journey, but record the browsing steps on the tablet and record that data.
"That will be fascinating stuff for us to know. It would be a leap of faith to say that people's behaviour online is a map of in-store behaviour."
"It would be a leap of faith to say that people's behaviour online is a map of in-store behaviour"

Andrew Murphy, John Lewis
Speaking to Retail Week at the Forrester Customer Experience Forum, Murphy said, however, that there are no plans to capture location data from shoppers' mobile phones as they walk through the store, saying that too many customers would view this as an infringement of privacy.
During 2014 the retailer has made improvements to its omnichannel offer, such as improving its in-store wifi, but Murphy said next year the offer will start to get more sophisticated.
John Lewis is currently spending around 40% of its total capital expenditure on IT, and Murphy said more of this will impact stores next year as projects come to fruition.
He said: "We will double down on the omnichannel experience in stores. We have been investing a lot of time and money and we'll start to see results next year."
40%

The share of John Lewis' total capital expenditure that goes on IT
John Lewis is also working with technology start-ups Localz and Tap to Connect, the winner and runner up of its start-up competition JLab.
Localz uses location technology in shoppers' phones to send offers and promotions to consumers in store, and Tap to Connect improves customer service by attaching smart labels to products that can be scanned to get product information and help.
In the last few years John Lewis has re-platformed its website and has rolled out a new Epos system from PCMS. It is in the middle of a four-year roll out of a new ERP system, and is also rolling out customer-facing tools from Salesforce.com.
Omnichannel challenges
The investment in IT is part of a wider push to make sure that John Lewis's customer experience remains strong as it evolves.
Murphy says the move to omnichannel retailing has been a challenge. "We'd just got our heads around splitting [the different channels] into three, when we realised that customers are not doing that. 65% are browsing if not shopping all of them.
The fourth channel is where it all comes together, and that sounds like a manifesto for overinvesting in everything. You've got to be brilliant at everything, which is completely at odds with everything you've learned about prioritising different areas of the business."
He added the change has been profound. "It's difficult to stress how profound the change is. For ten, twenty years I was training to be an expert in a form of retail that no longer really exists."
He added, however, that John Lewis has been able to forge ahead and invest because it is not pressured by shareholders. "We are a wholly independent entity and we don't have to worry about the next broker note. We can think about and invest for the next three to five years, not the next six to twelve months."
Harley Manning, research director for customer experience at Forrester, said a strong customer experience has become just as important as price in terms of competitive advantage in retail. "Competitive differentiation is very difficult to do on price. It's not as sustainable a source of competitive advantage as it was."