Department store group said quiet week was against 'backdrop of changeable weather'
Many store sales were down year on year but online was up 6.4%
Fashion sales slipped 2.3% during the week
Sales at John Lewis increased 0.6% to £69.97m last week, with year-on-year takings down at stores including its Oxford Street flagship.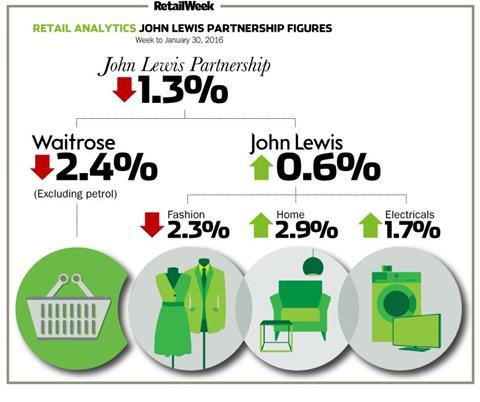 The department store retailer said its quiet week, which saw some of its stores including Solihull, Swindon and Aberdeen report a double-digit loss compared to the year before, was against a 'backdrop of changeable weather'. Its flagship Oxford Street store posted a 6.6% fall in sales last week.
Online continued to perform well for John Lewis with sales up 6.4%.
Across the categories, fashion sales slipped 2.3% during the seven days to January 30, while it was a stronger week for home and electricals and home technology, which rose 2.9% and 1.7% respectively.
Barry Matheson, director of retail services at John Lewis, said: "In the final week of the financial year, and against a backdrop of changeable weather, total sales were up 0.6% year on year. Sales at our shops were down overall, but our Heathrow, York and Exeter branches delivered particularly positive increases versus last year.
"At a directorate level, home was up 2.9% and saw increases across all product categories, with home accessories driving the greatest year-on-year growth. EHT [electricals and home technology], too, was in the increases, up 1.7%, with strongest performance within the area of communication technology.
"Fashion sales were down 2.3%, but beauty/wellbeing and leisure was the stand-out, perhaps indicating that our customers have been inspired by our Re:new all campaign."
Waitrose figures
Sales at sister retailer Waitrose dropped 2.4% to £117.2m, in what commercial director Mark Williamson described as a "challenging" week.
The upmarket grocer pointed out that many its consumers celebrated Burns Night last week, with the retailer noting a 22% rise in the sales of haggis compared to last year.
John Lewis Partnership noted that from next week it will release its weekly trading statements on a Tuesday.
It also added that its "weekly reports are changing to reflect the omnichannel nature of our business and will report on overall sales rather than individual shops, regions and sales channels".