John Lewis's sales dropped last week as the department store chain's fashion and electricals categories suffered.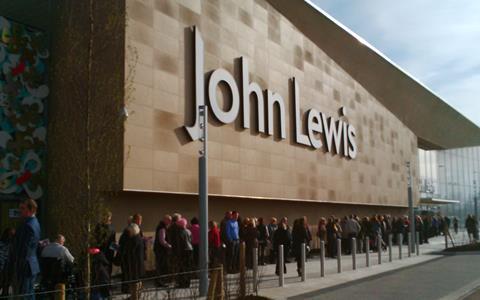 The retailer said total sales fell 2% year-on-year in the seven days to February 11.
John Lewis blamed the later fall of Valentine's Day, which was on a Sunday last year, for the shift in sales.
Revenues from its electricals and home technology department slipped 2.9%, despite communication technology posting an uplift of 5.7%.
Fashion also registered a sale decline of 2.7%, although revenues from the retailer's womenswear proposition advanced 3.7%, driven by its spring/summer ranges.
John Lewis's home division was its only department to register sales growth, inching up 0.5%.
Furniture enjoyed a "particularly strong" week, as sales jumped 8.1%, while John Lewis said revenues also increased in bedding, towels and mattresses.
Waitrose
Sister retailer Waitrose also suffered a drop in revenues last week, as total sales fell 2.8% to £124.1m.
The upmarket grocer said its sales line was "affected in part" by the timing of Valentine's Day.
Waitrose said that meant many purchases would have been made in the equivalent trading week last year.
Chilled, fruit, bakery, vegetables and horticulture was the worst-performing food category, as sales tumbled 3.3% compared to the same week last year.
Revenues from ambient products fell 2.3%, while Waitrose registered a 1% dip in meat, fish, frozen and dairy.
However, Waitrose said the cold snap drove sales of comfort food such as soups and hot pies, which grew 30% and 100% respectively.
Roasts also proved popular, as sales of meat joints, stuffing, stocks and gravy all increased.
Waitrose said the healthy-eating trend continued last week, as sales of salads and vegetables climbed 11% and 5% respectively, while its Mini range for babies and children had a "successful" first week.