John Lewis' sales jumped last week as price-matching promotions across clothing, cookware and dining products wooed shoppers.
The department store business said total sales climbed 3.9% to £73.8m in the week ending June 10, as its 'never knowingly undersold' mantra drove revenues in stores and online.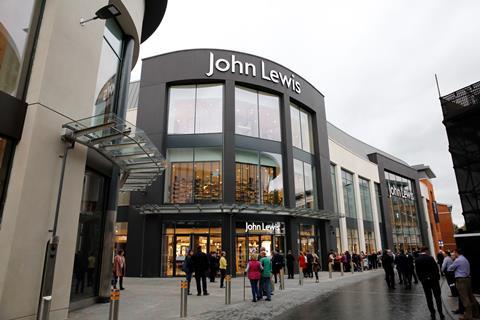 John Lewis' fashion sales improved 7.9% compared to the same week last year, with the biggest increase of 15.6% coming in the beauty, wellbeing and leisure category.
Menswear sales advanced 9.5%, while womenswear grew 5.2% during the seven-day period.
Revenues from women's shoes and jewellery also spiked 15.7% and 14.5% respectively.
John Lewis' home division registered a 1.3% sales uplift, as revenues from cook and dine were "positively impacted" by price-matching a competitor's Sale event.
The retailer's living dining category grew 10.6%, while utility shop sales increased 6.5%.
John Lewis also enjoyed an upturn in sales within its electrical and home technology department, which climbed 2%.
Sales of audio and connected home products jumped 19.5% year-on-year, while sales of gaming products more than quadrupled amid Sony's PlayStation promotion.
Waitrose
John Lewis Partnership stablemate Waitrose recorded a 0.5% incline in total sales excluding fuel, as comparatively cooler weather compared to the same week last year influenced shopping.
Sales of soup spiked 23%, while stocks and gravy (18%) and meat accompaniments (20%) also performed well as customers picked up ingredients for warming meals.
The upmarket grocer's beers, wines and spirits registered growth, thanks to a 23% surge in sales of spirits and an 11% improvement within craft beer.
Waitrose cafés also proved popular last week, growing sales 7% as more shoppers made the most of their shopping trips by stopping off for food and drink.