John Lewis and Waitrose sales jumped last week due to the colder weather and bank holiday weekend.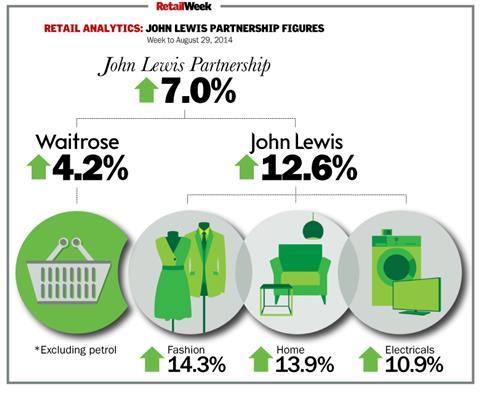 The department store retailer recorded sales up 12.6% to £76.46m in the week to August 23, achieving double-digit growth across its fashion, electricals and home categories.
John Lewis buying director for fashion Ed Connolly said the retailer had a "superb" week with fashion generating the sharpest sales growth that week, up 14.3% against last year. This was led by womenswear, up 17% and driven by own brand and wholesale.
The wet weather also led to a jump in outerwear and cashmere sales, while menswear sales increased 15% for the same reason.
Back to school
Additionally, John Lewis said it had an "outstanding" week from its back to school range, as children return to class next week. And childrenswear, as a whole, recorded a 16.7% rise in sales.
Electricals and home technology sales jumped 10.9%, led by audio and gaming, which was up 39% and large electrical, up 24.5% as its bank holiday promotions proved popular with customers.
Home sales grew 13.9%.
Waitrose, its supermarket partner, posted sales up 4.2% to £117.59m driven by festival-goers stocking up on products for the Notting Hill Carnival and Reading and Leeds Festival over the weekend.
Waitrose said sales of dry shampoo increased 13% and hair colourants surged 38%.
And the return of TV series the Great British Bake Off boosted sales of flour by 19% as shoppers tried their hand at baking. Waitrose said dried yeast sales soared 60%, spelt increased 43% and rye rose 18%, as the show's contestants were tasked with making bread.