As he hands over the reins as chief executive, Macy's Terry Lundgren discusses his career and why he's confident department stores will thrive.
Last week brought a red-letter day for Macy's Inc veteran Terry Lundgren.
That was when he passed over the reins as chief executive of a retailer he has run since 2003, held the most senior roles at since 1997 and began his career when it was still Federated Department Stores.
The handover, to longstanding colleague and former chief merchandising officer Jeff Gennette, came at a time of turmoil for US department stores as they battle to adapt to changing shopping patterns.
Many department stores suffered a dismal holiday trading period.
Sears, owner of Kmart and once America's biggest retailer, is teetering on the brink of collapse and others, including Macy's are restructuring.
But Lundgren, who will be inducted into the World Retail Hall of Fame at the World Retail Congress in Dubai next week, has steered the retailer through hurricane trading conditions before and is confident that Macy's has a bright future ahead of it.
Coming out in better shape
Cincinnati-based Macy's, which also owns Bloomingdale's and has recently been the subject of speculation about a tie-up with Saks Fifth Avenue owner Hudson's Bay Co, suffered a fourth-quarter sales fall of 4% and operating profits declined from $936m (£753m) to $815m.
"I've seen a lot of challenging times and opportunity times so I've seen a version of this movie in the past"

Terry Lundgren, Macy's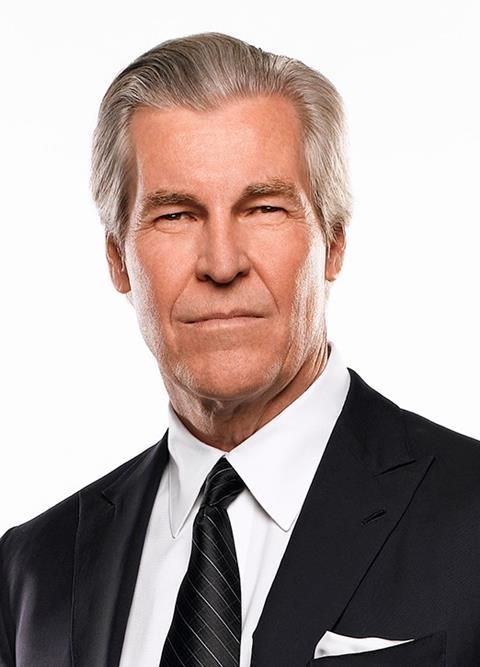 The retailer expects a further slip in revenues this year and in January revealed the shuttering of 68 stores – out of a total of 730 branches – and that job losses associated with the closures and efficiency initiatives could total about 10,000.
Lundgren, however, is bullish that steps being taken, such as a focus on digital commerce and in-store improvements, will bear fruit.
"Have I ever seen times like these? In fact I have," Lundgren tells Retail Week.
"When you've been a CEO for 14 years at this company, and Neiman Marcus before that, I've seen a lot of challenging times and opportunity times so I've seen a version of this movie in the past."
"You're always told this time is different – and they generally are – but we've always come out in better shape. That's the good news and I'm sure we'll get through this one."
He recalls: "In 2008 when we had the recession it was very difficult. We had to make structural changes and lay people off. We had to do that again recently and those are always the hardest issues, when you're dealing with individuals who are doing a good job."
The purpose of stores
US retailers are being affected by similar issues to their UK counterparts, whether the rise of ecommerce or the growth of value retailers – off-price in US parlance – such as TK Maxx or category spending shifts.
And as in the UK, retailers such as Macy's are reassessing the purpose and appeal of their stores and seeking ways to better integrate clicks and bricks.
"We have to continue [to work] at the online and in-store experience and make it what customers want"
Macy's is already the sixth biggest etailer in the US, and the third biggest in its key categories such as footwear and apparel.
Lundgren observes: "The major opportunity is when customers touch us online and in the physical store.
"That's our best customer and we want to make it as easy as possible to do just that. Customers will try something on and then buy it online. If people want to come into our store and have product delivered we'll do that too. We have to continue [to work] at the online and in-store experience and make it what customers want."
In-store, Macy's is adapting with initiatives such as Backstage, designed to woo shoppers seeking off-price merchandise, through to tie-ups with big-name partners.
Lundgren says: "The consumer has traded to the off-price channel more. We've seen it in the past and it's ebbed and flowed, now we're seeing it grow.
"We've got Macy's Backstage to bring traffic to our stores. Off-price is new for us but we like the idea of putting it in.
"We now have over 40 Backstages. We're moving quite rapidly. The majority have just been put in place and so far, so good."
New partnerships, such as that with Finish Line, are also being added to bolster stores' appeal.
Lundgren says: "Finish Line is one of the best athletic footwear companies in the world. It's worked brilliantly. We're looking at other ideas like that.
In a US department store first, Macy's unveiled an Apple store-in-store last November at its flagship Herald Square branch in Manhattan.
"We're always looking at what's next – what will the customer find interesting to buy from us, but with some external expertise?" says Lundgren.
Taking inspiration
During Lundgren's tenure as chief executive, Macy's achieved a return to shareholders of 203% between 2003 and 2016.
Over that period sales climbed from $15bn to $26bn and earnings per share advanced almost 68%.
One of his landmark moments was the acquisition of department store peer May in 2005 – "transformational" and one of the proudest moments of Lundgren's career – which doubled the size of the business.
Lundgren's rise in the world of US department stores was helped by a variety of people. From his father, who sold real estate in the evenings and at weekends while labouring in a factory nine-to-five, he learned the value of hard work.
"That exposure to Sy Stewart helped me become a better merchant. Within two years I doubled the business"
But in retail he cites former Federated boss Allen Questrom, ex-Neiman Marcus chairman Stanley Marcus and home furnishings legend Sy Stewart as among those he learned most from.
"Allen was the person who inspired me to reach out to younger people at the early part of their careers and mentor them along the way. Now I have a breakfast club here once a month when I bring together under-30 executives and answer questions.
"Stanley Marcus, I had a phenomenal relationship with him. I was a young guy and he helped my credibility by endorsing my strategy."
Lundgren first met Stewart, a supplier, when he was a lighting buyer for department store business Bullocks.
"That exposure to Sy Stewart helped me become a better merchant. Within two years I doubled the business. He helped me think things through, have a vision and edit my assortment."
Creating special experiences
With this vision, Lundgren sees plenty of opportunity, including internationally, for Macy's despite the headwinds buffeting department stores,.
The retailer already operates in Dubai and Abu Dhabi, where Bloomingdales stores are run with local partner Al Tayer, and a Macy's branch will open in the latter location next year.
For Lundgren, the values that have kept Macy's in business so far will help it navigate the future successfully.
His days as Macy's chief executive over, Lundgren will continue, in the role of executive chairman, to play a part in that future as Gennette steps up to the plate.
"We've been around 159 years and constantly had to change. We need to make sure that we're creating reasons for customers to have a special experience and transact with us," he concludes.
World Retail Congress runs between 4 to 6 April at Madinat Jumeirah, Dubai.