Sales at John Lewis rose 14.2% last week to £71.5m, helped by wet weather and a strong fashion performance at the department store.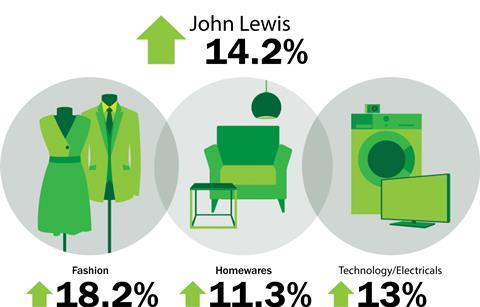 Powered by a 24% rise in womenswear sales, fashion overall was up 18.2% year-on-year in the period to May 30.
Own-brand womenswear sales rocketed by 45% as sales of warm-weather lines picked up.
However, the performance was helped by wet rather than sunny weather.
John Lewis operations director Dino Rocos said: "The weather from midweek was perfect for department store shopping – heavy showers drove customers inside to spend time dreaming about summer holidays to come."
Sales of electricals and technology goods advanced 13% in the week and the home category was up 11.3%.
Online revenues climbed 31%. Online fashion sales rose 45%, partly the result of price-matching and new season's lines. The electricals category was up 24% online and home ahead 30%.
Rocos said: "We ended the month on a positive note – refreshed from the bank holiday weekend and prepared for busy weeks ahead, which begin with the half-term break this week."
Weekly sales at John Lewis Partnership grocery stablemate Waitrose rose 7.1% year on year.
The Rugby Union Heineken Cup Final and Champions League Final helped lift world beer sales by 33% over the week, when outdoor products such as barbecues rose by 50%.