Sales at department store retailer John Lewis surged by 20.7% to £86.61m in the week to July 5, thanks to fashion enjoying a bumper week.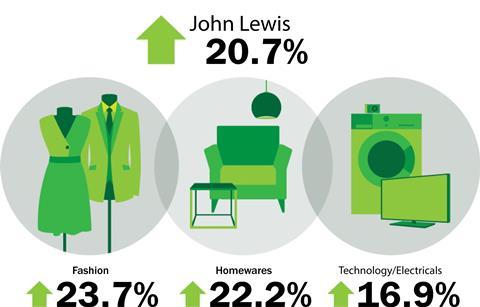 John Lewis said fashion sales increased 23.7% during the week, with womenswear and menswear performing strongly, particularly online.
Overall, the department store retailer's stores recorded a 16% rise in sales, with High Wycombe and Leicester enjoying sales of 41.7% and 41.2% respectively.
Online continued to show strong growth, with the website recording a 34% rise in sales. The retailer said that the number of online orders placed in shops was more than 50% ahead of last year.
John Lewis director of retail operation Simon Russell said its Sale "continues to perform well as we head towards the mid-point".
John Lewis said within electricals, customers were snapping up white goods and small kitchen appliances and despite England's early exit from the World Cup, which promoted a small decrease people buying TVs, sales were back up last week. It also cited tablets and speakers as two big winners.
Furniture reported an all-time record week for the summer season, helped by strong demand for beds.
Russell said: "After such a great clearance in fashion plenty of hard work is going on to drive new season stock into the business earlier than last year to refresh the look and feel on the website and in shops."
However, it was a poor week for sister retailer Waitrose, which reported a sales drop of 0.1% during the same period.
The company said it was up against tough comparatives, with last year's summer heatwave and Andy Murray's Wimbledon success helping to boost sales.
The retailer said the having a stage of the Tour de France in Britain certainly increased customers' appetite for French foods last week with sales of viennoiseries, baked goods such as croissants and pains au chocolat up by 23% on last year.
Waitrose supply chain director David Jones said French cheese also enjoyed a strong week, with sales of French emmental up by 64% against 2013 and brie up by 17%.