John Lewis weekly sales increase 7.1%
Sales within electricals, home and technology grow 15%
Waitrose sales drop 1.8% during the week
John Lewis has reported a 7.1% surge in weekly sales driven by the performance of its electricals, home and technology ranges.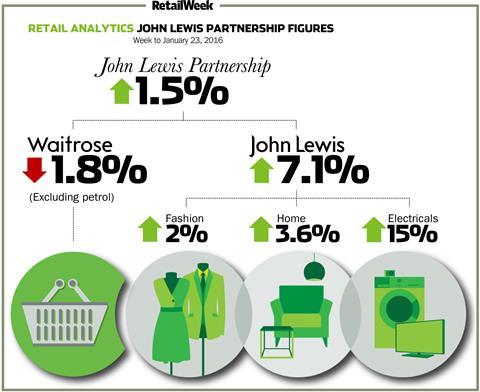 The department store group said sales rose to £73.8m in the week ended January 23, buoyed by "strong" 15% growth in its electricals and home technology lines, and a 20% increase in revenues from its vision category.
Shoppers also felt the chill as colder weather began to grip the UK. John Lewis said online searches for fires, thermals, heaters and mittens increased during the week. But, despite the onset of frost, NutriBullets remained the top ordered product from online searches.
John Lewis's fashion category recorded growth of 2% compared with the same week last year, as its own-brand womenswear proposition emerged as the "star performer".
Homeweares also posted growth of 3.6% on the year as new season products and clearance lines flew off the shelves.
John Lewis director of online trade Mark Felix added that shoppers were already beginning to prepare for Easter, with online searches becoming increasingly geared around products wanted for the long weekend.
Waitrose
Sister retailer Waitrose reported a 1.8% drop in sales excluding fuel to £117.86m during the same period, despite the success of its 'Power of 5' promotion.
The deal, which allows customers to save 25% when they purchase any five fruit and vegetable products, sparked a 12.1% uplift in soft fruit compared with last year.
Nutribullet favourites strawberries and raspberries rose 29% and 14% respectively, while avocados posted a 15.4% uplift. Sales of organic green vegetables advanced 31%, driven by a 47% spike in spinach.
Waitrose's service counters performed well, as fish increased 15% and meat posted a 10.1% jump in sales.
The grocer added that shoppers' determination to stick to new year healthy eating resolutions helped drive sales of cookware and dining products, which advanced 35% and 65.2% respectively.
But, despite the healthy eating trend, sales of Easter confectionery rose 17.6% compared with the same week in 2015.