John Lewis sales jumped 4.4% to £83.4m last week as "seasonal weather" drove up fashion performance and online gained further traction.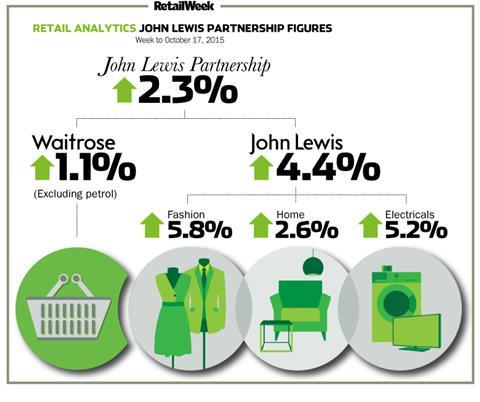 The department store group said overall fashion sales rose 5.8% during the week ending October 17, with womenswear jumping 10.4%.
Cooler weather also helped menswear ranges fly off the shelves as own-label clothing reported a 16.6% increase in sales. Branded casualwear increased 14.8% and formalwear sales rose 10.3% during the period.
John Lewis's online business continued to grow as revenue surged 13.1% during the week, while its communication technology and electricals categories reported 6.3% and 4.6% growth respectively.
The retailer's home department recorded a 2.6% increase in sales, with textiles and carpets up 6.8%. Home accessories and gifts had a 3% uplift thanks to new season collections and Christmas ranges.
The fast-approaching festive season also has a positive impact at sister retailer Waitrose, where sales edged up 1.1% to £121.9m last week.
Despite 10 weeks still remaining until Christmas, shoppers stocked up on seasonal treats as sales of all butter mince pies soared 41%.
Pumpkin sales rose 7% on the year as customers prepared for Halloween.