John Lewis sales increased 6.5% to £72.31m in the week to April 26 as the retailer's electronics and technology sales continue to climb.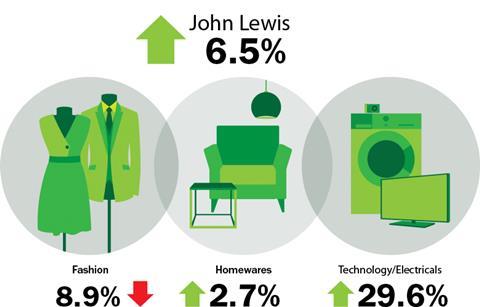 John Lewis' electronics department notched up growth of 29.6%, and things are set to improve further as the department store retailer launches its own range of TVs this week.
Christine Kasoulis, buying director for home departments, said: "EHT continues to show excellent growth year on year and achieved growth of 29.6%. Trade on Monday and Saturday was particularly strong. Notable performances were from audio and gaming (up 55%) and vision (up 48%) in advance of the launch of John Lewis branded TVs this week."
Fashion, kidswear and home all also performed well, and the retailer said its new store in York had traded "above expectations".
At sister retailer Waitrose, sales fell 2.1% because of the timing of Easter. Managing director Mark Price said: "As expected, sales in the week ending April 26 were 2.1% lower than last year explained by the shorter trading week with the closure of most shops on Easter Sunday. A more meaningful picture is provided by comparing the two-week Easter trading period this year with the equivalent fortnight last year, which shows a divisional sales uplift of 7%."
The grocer has now completed its first quarter of its trading year, with sales rising 6.5% in the first 13 weeks of the year. Online sales rose 79.4% over the period.
Price added new store concepts are helping to attract customers: "The development of the modern Waitrose has also seen us take a number of new concepts into branches to give shoppers additional reasons to visit. We are trialling bakery and patisserie concepts, juice bars, wine and deli grazing areas, and all are showcased together for the first time in our Swindon branch - which opened last month and is performing ahead of expectations."
He added that 70% of sales in the first quarter were made by MyWaitrose loyalty card holders.