Sales at department store group John Lewis edged up 0.2% in the week to July 6, thanks to last week's sunny weather and major sporting events such as Wimbledon.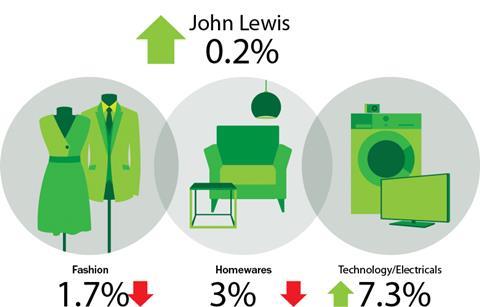 Electricals and home technology sales jumped 7.3% year on year, driven by small electricals, which were up 26%. Customers rushed to buy cooling products, with sales up 300%, and outdoor living products, which experienced sales growth of 66%.
However, sales in the home category dropped 3% while fashion sales slipped 1.7%.
John Lewis said the week started out stronger than it ended, with footfall falling on Saturday.
The sunny weather caused sales of sunglasses to rise 174% compared with the same week last year, while women's sandals and suncare also experienced strong growth.
During the week online sales surged 16%.
John Lewis buying director for fashion Matthew McCormack pointed out that its Chester, Cambridge and Watford stores all delivered "good growth".
He added: "As we head into the final week of clearance, the division is ahead of plan and making way for new trans-seasonal deliveries."
The summer weather and sporting events led to sister grocer Waitrose reporting its strongest sales performance outside of Christmas and Easter, with sales up 16.8%.
The sunshine led to record demand for charcoal, with sales surging 450%, and BBQ accessories were up 500%.
Customers snapped up plenty of Pimm's as sales surged 316%, while strawberries and cream were up 60% and 70% respectively.
The Murray effect also came into play with sales of swingball sets up 596% compared with the start of Wimbledon.