Department store retailer John Lewis recorded an increase in sales in the week to February 21, with a strong performance from home and fashion.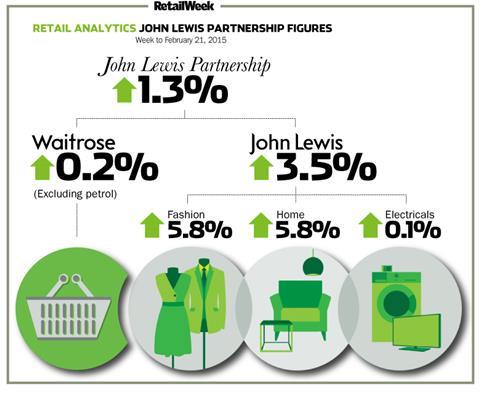 The home and fashion departments racked up 5.8% increases in sales year on year, while total sales were up 3.5%.
John Lewis said the growth was rooted in a strong online performance which was up 16.7% year-on-year.
As winter begins to turn into spring, John Lewis customers are spending more on outdoor living, and the retailer reported a surge in sales in the category – up 285%. Meanwhile, fitted furniture also had an increase of 29%.
Fashion also sales rose, with babywear (up 21.1%), jewellery (14.5%) and nursery (13.4%) performing well. Online fashion spend also saw double-digit growth.
Waitrose year-on-year sales growth was held back by lower prices and were only 0.2% higher than last year.
Waitrose finance director, Tom Athron, said falling food prices has had a drag effect on Waitrose sales.
Athron said: "It was reported last week that the rate of inflation faced by households has fallen to the lowest level on record and food price deflation accelerated in January. This is starkly illustrated by the examples​ of ​carrots – 60p a bag now compared with £1 last year – and broccoli, for which prices have more than halved since the same time last year: £1.40 per kg now versus £2.90 per kg."
The grocer also cited a strong demand for Fairtrade products, as it approaches Fairtrade Fortnight (February 23 to March 8).
Following a partnership with the Fairtrade Foundation, the retailer saw sales of​ Green & Black's Fairtrade chocolate rose 175%.
Consumers also responded well to Waitrose's 'spring clean' offers last week.