John Lewis sales rose a "solid" 4.8% in the week to January 31, with growth partly driven by new season fashion stock finding favour with shoppers.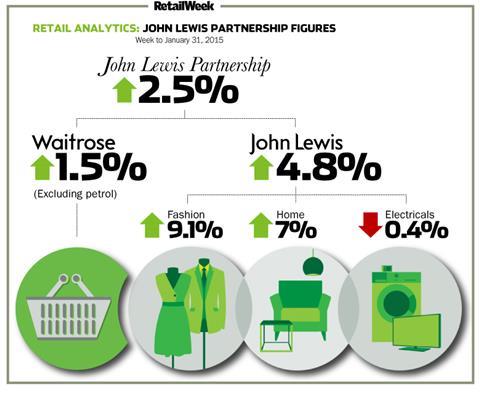 John Lewis managing director Andy Street said the growth was rooted in online as well as the fashion and home departments.
The week rounded off the financial year for the department store chain, and Street said online has had a "powerful year". He said: "JL.com [John.lewis.com] completed a powerful year as they exploited higher traffic and conversion on the site. For sure they have momentum going into 2015."
He added the year had seen a big increase in multichannel trends: "Last week continued the pattern we have seen since Christmas, providing a solid sales increase of 4.8%. This was rooted in online and a combination of the fashion and home directorates. It rounded off another strong year for sales, which have been nicely ahead of the market, and reflects the role shops and online are playing supporting one another."
At sister retailer Waitrose, sales excluding petrol climbed 1.5% in the same week, despite what the retailer said were "very tough comparatives driven by a major promotion in the equivalent week last year".
The grocer will report its annual results on March 12, but said sales were up in the second half of the year by 5.7%. Supply chain director David Jones said: "This growth comes against a backdrop of unprecedented price deflation in the market, caused by good global harvests bringing down commodity food prices and by price cutting in the supermarket sector."