Sales at department store business John Lewis rose 3.2% to £90.1m last week as the retailer's summer clearance Sale got under way.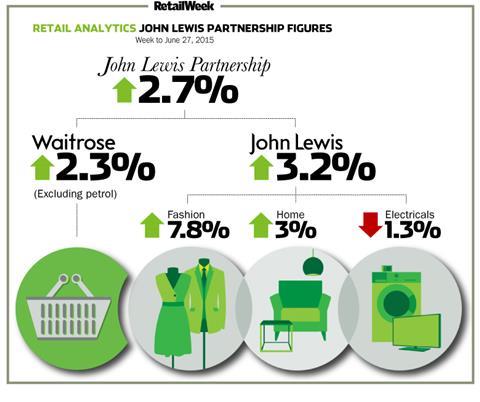 The clearance prompted "exceptional peaks in online traffic" but in-store performance was affected by Saturday's hot weather.
While online revenues surged 24.3%, many John Lewis stores suffered declines.
Fashion sales rose 7.8% over the week as children's shoes and branded men's and women's fashion performed particularly strongly.
The home category delivered a 3% uplift.
Electricals and home technology was down 1.3%, although the launch of Sim-free mobile phones created "much excitement".
John Lewis retail operations development director Simon Russell said: "Clearance bargains are selling well this week and understandably we are also seeing a sharp spike in demand for warm weather merchandise.
"Overall we are well placed with some great cooling, outdoor living and game products."
Revenues at John Lewis's grocery stablemate Waitrose advanced 2.3% over the week to £126.2m.
Waitrose sales
Waitrose's outdoor ranges did well, helped by the warm weather. Sun lotion, barbecue charcoal and gardening products all sold strongly.
The approach of Wimbledon contributed to sales rises of strawberries, cream and Pimm's.
Waitrose finance director Tom Athron also reported "a continued very positive reaction to our Pick Your Own Offers scheme".