John Lewis blamed the unseasonably warm weather for its sales fall last week, as Waitrose benefitted from it, recording an increase in sales.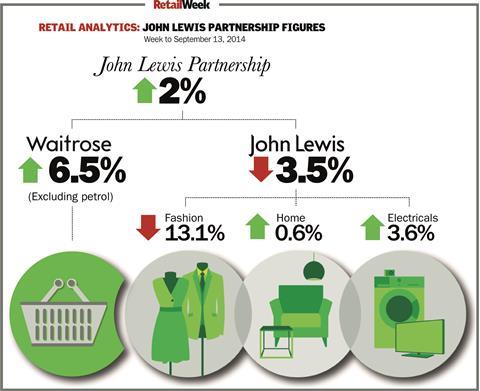 The department store retailer said the milder weather pushed sales down 3.5% to £72.2m in the week to September 13, as shoppers would usually be purchasing goods in preparation for winter.
It added that footfall was also impacted by less promotional activity in the high street.
Fashion sales slumped 13.1% as a direct result of the warmer weather and reduced promotional activity, although John Lewis recorded a 4% jump in men's accessories driven by Calvin Klein underwear.
The home category recorded sales up 0.6% driven by furniture sales, up 9% and home accessories and gifts up 7%, while beds and bedroom sales soared 19% and upholstery grew 17%.
John Lewis said customers were already shopping for Halloween with sales up 27% year on year.
Electrical and home technology sales jumped 3.6% driven by consumer electronic accessories, which were up 22% on the year and tablet sales climbed 3%, with Apple products up 9%.
John Lewis said online sales increased 5.6% on the year but fashion sales online were also affected by the weather. Toys, nursery and baby were a top performer and recorded a 26% sales increase, driven by a 47% surge in car seat sales, John Lewis revealed.
John Lewis buying director Andy Marsh said: "Despite the forecast for continuing mild weather, and with Christmas launching online, we are confident that our seasonal assortment will inspire customers to invest in products for the coming months."
Waitrose sales, excluding petrol, increased 6.5% on the year to £118.8m as the warmer weather and outdoors events boosted sales of its 'to go' range up 17.5% and bottled water, which surged by a third.
Waitrose said events such as the Proms and the Invictus Games spurred sales of outdoor food and picnic favourites, such as quiche, which surged 26% and dips which increased 12%.
Waitrose revealed that the warmer weather had spurred the final chance for customers to have a barbeque, as it sold 4,000 more bags of charcoal against last year, while slow cooked meat sales surged 48%. Ice cream sales advanced 25% and soft fruit sales jumped 16%.