John Lewis and Waitrose sales slumped in the week ending April 11 due to Easter falling two weeks earlier this year.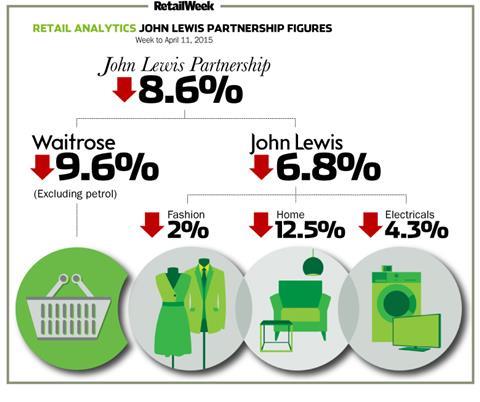 John Lewis sales fell 6.8% to £68.8m during the week when compared with last year, which was the week before the Easter holiday.
The sales decline was mitigated by online increasing 16.1% year on year and warm weather helped fashion sales, which only fell 2% year on year against tough comparatives.
Womenswear was boosted by customers buying summer wardrobes, with a particularly strong performance from accessories including sunglasses and sandals.
Home sales were down 13% against last year, but outdoor living put in a strong performance as it rose 55% as a result of the warm weather.
Six-day trading
Meanwhile, sales at Waitrose fell 9.6% year on year to £112m because all of its shops were closed on Easter Sunday (April 5), which meant the results compared a six-day trading week with a seven-day week.
Waitrose believes a more realistic comparison would be to compare the trading week with the full seven-day week beginning Easter Sunday last year, which shows sales (excluding petrol) were down by 1%.
The grocer says hot weather and a weekend full of sporting events including the Grand National and Boat Race "resulted in an early start for alfresco dining".
Adult ice lolly sales surged 27% and children's lollies were up by 11%, while barbeque meats also recorded a huge jump.
Lamb burger sales increased 510% and veal burgers recorded a spike of 37%.