John Lewis sales increased 4.2% last week after a "lively" start to the week and Waitrose reported a boost from the Great British Bake Off.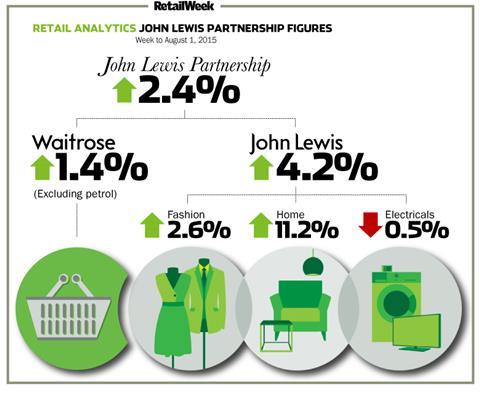 John Lewis sales up 4.2% last week and up 3.4% over the first half
Home strongest performing category last week, followed by fashion. Electricals sales fell
Waitrose revenue climbs 1.4% last week and up 1.2% in the first half
Great British Bake Off already boosting bakeware sales
The department store group said trade softened at the back end of the week as the sun came out "and customers enjoyed outdoor activities" over shopping.
Over the first half, sales climbed 3.4%.
Last week, home was the best performing category, with sales rising 11.2%. Furnishing fabrics, bedding, lighting, gift food, and fitted and dining furniture were the stand outs.
Fashion sales were up 2.6% driven by menswear, which climbed 12.5%.
Electrical and home technology sales slipped 0.5% "despite a strong week for Vision", where sales increased 13.1%.
Online sales rose 13.3%.
Bake Off boost
John Lewis retail operations development director Simon Russell said: "Peak holiday season is now upon us and our focus remains on introducing a few surprises for customers with some inspiring new products and propositions, in particular some fantastic new season's lines which are starting to appear on the website and in our shops."
Sister retailer Waitrose has delivered sales growth excluding petrol of 1.4% last week and 1.2% in the first half, despite what boss Mark Price labelled "brutal market conditions".
Price said Waitrose has outperformed the market, won new customers and gained share – which increased 0.1% to 5% in the 12 weeks ending July 19, according to Kantar Worldpanel.
The return of hit TV show The Great British Bake Off is already boosting sales. The first episode aired on Wednesday and in anticipation last week bakeware sales increased by 55% and baking tray sales rose by "an incredible" 881%.
He said sales patterns last week were also influenced by the "erratic British weather" as customers purchased products "more commonly associated with the winter months".
Goods associated with a Sunday roast did well, including frozen meat, and vegetables.