Families shopping for the start of the new school term and the cooler weather boosted sales across John Lewis and Waitrose stores last week.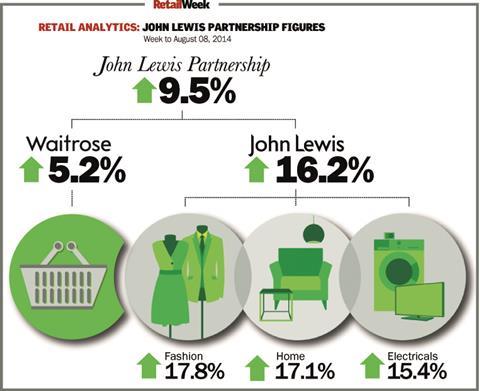 Department store retailer John Lewis posted a 16.2% surge in sales for the week to August 30 driven by its back-to-school offer, which recorded a record week, up 20.3%, while it also reported a record performance online.
Fashion generated a 17.9% sales rise against last year as shoppers started preparing from the cooler weather. Accessories, including gloves and scarves increased 25.7%. Womenswear was up 23.2%.
Home recorded a 17.1% lift in the week driven by furniture sales, which were up 24%. Beds and bedroom sales surged 27.3%, while filled bedding sales soared 38.6% as shoppers' thoughts turned to winter.
Electricals and home technology sales jumped 15.4% as tablets and computing sales, up 10.2%, were helped by the launch of the Microsoft Surface tablet.
John Lewis's online business generated a 27.7% sales rise.
Waitrose sales jumped 5.8% to £118.41m in the week.
Waitrose said sales of sandwich fillings leapt as the kids returned to school, with tuna fish sales up 10% and preserves up almost 13%. While online sales soared 25%, which Waitrose said was due to families restocking their kitchens.
It added that the coverage of the Great British Bake Off this week, which featured the baked Alaska, sent ingredients sales up 5.8%. Vanilla extract sales surged 26%, caster sugar sales jumped 10% and sales of large eggs increased by more than 37%.
And as the colder weather sets in Waitrose said sales of fresh soup rocketed 44%, tea jumped 24%, coffee was up 20% and hosiery also advanced 44%.