Speculation had been mounting that a swathe of the department store group's estate would be shut and House of Fraser chief executive Alex Williamson has now shown that he is not afraid of making tough decisions.
He called the news today "grim" but insisted that it was absolutely necessary and a last resort for the 169-year-old business.
Creditors will now have a fortnight to ponder the proposal and will vote on it on June 22. If it passes, 31 stores will close early next year with 6,000 jobs under threat – 2,000 among House of Fraser employees and another 4,000 at brand or concession partners.
"While a CVA would put House of Fraser on an even footing, it would still need to discover its purpose"
The closures would include House of Fraser's Oxford Street flagship and hit regions such as the North East hard – the Darlington and Middlesbrough branches are among those facing the axe.
If the CVA gets the go-ahead it will clear the way for £70m investment from potential new majority shareholder, C Banner – the Chinese retailer that owns Hamleys. If not, House of Fraser, currently owned by Chinese investor Sanpower, looks destined for the dustbin of retail history.
Landlords are not happy about either the current slew of CVAs across retail or – as they see it – an ultimatum from House of Fraser over new investment. The CVA vote is expected to be close among landlords.
"The biggest issue we have is that even if 100% of landlords voted it down, the way in which the maths is done to show who is a creditor, you could still get 75% of the creditors being non-landlords," says Mark Williams, chairman of retail property organisation Revo. "That is a farce because clearly it is landlords who are taking the brunt of the impact. I don't know that it would make a difference even if all the landlords voted against it, but I would expect a large number of landlords to vote against it. Our biggest gripe is that people who vote are not impacted [by the CVA]."
Future strategy
However, Williamson struck a confident tone about a CVA's prospects and was emphatic about why the retailer needed to shut so many stores.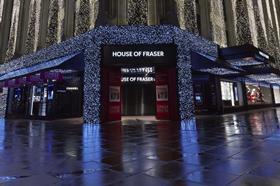 "What is critical is that we do not lack bravery to create a business which would be viable," he said. "It would tempting to pull forward more stores than allows us to be viable. We have been as robust as possible… there are too many case studies of CVAs that have not worked and this is not going to be one of them."
Assuming that the CVA works and House of Fraser is left with a profitable network of stores, a new majority shareholder and £70m in the pot – rather than a present owner whose conduct has been less than straightforward and not much in the bank at all – the future is potentially much brighter.
But while that would put House of Fraser on an even footing, it would still need to discover its purpose. For now, the retailer is pursuing a 'house of brands' strategy and wants to capture a fashion-conscious, higher-end, higher-spend customer through the provision of experiences as well as products.
That could help distinguish it from Debenhams, which is also reinventing itself, Marks & Spencer's new family-oriented approach, and that haven of middle England, John Lewis.
But it also requires investment. £70m might sound like a lot but it works out at £2.5m a store. John Lewis, by contrast, invested £33m in its latest development, the new-build store in Westfield London.
Williamson said he was "confident" the business would be able to create short-term capital opportunities once it was on a firmer footing.
After that it would be "in a position to increase investment pace".
If House of Fraser was able to turn a profit and did not have an unprofitable estate dragging it down, it should not need cash from its owner on an onging basis to keep it afloat.
"This isn't a CVA of tinkering around the edges, a la the other ones we've seen," Revo's Williams said. "You are taking the cream off the top of the jug and pouring away the rest – and that shows how bad the bulk of the business has been. But if you can cut out all of your poor performing stores, at a stroke, and leave yourself with the best of the best, that's a very good starting place and you don't necessarily need to invest a great deal."
Lack of detail
Assuming the retailer can be stablised, it is what happens next that is the real challenge. On that, details are scant.
There has been talk of a much more experiential offer and higher-end ranges, but this not yet been articulated as a formal strategy.
"You can only assume what they want to do is bring in a strategy to build that experience-led environment," said one source close to the business.
"But to do that, you have got to put some money in – experience costs money. The likelihood is they probably haven't got their head around the plan and what they want to do themselves yet.
"Alex has come from an experience background at Goodwood, so he is bound to have some fresh ideas. He might drop a few bombshells with some new experiential thinking, or maybe I'm giving him too much credit because no one seems to know what the plan is yet."
House of Fraser has also been hit by, among other factors, the rise of online shopping. This has brought new competition and posed particular challenges to department stores. There was no detail on that today either.
While landlords may decide to give House of Fraser a chance by nodding through a CVA, it will then have to act fast to reposition itself and find new purpose on the high street and online.
House of Fraser's 'grim day' is just the start of its journey
1

Currently reading

Analysis: House of Fraser's 'grim day' is just the start of its journey

2

3