Landlords have lodged a legal challenge in a bid to overturn House of Fraser's company voluntary arrangement (CVA).
The group or property owners, represented by restructuring firm Begbies Traynor and property agency JLL, has lodged the petition in the Scottish courts.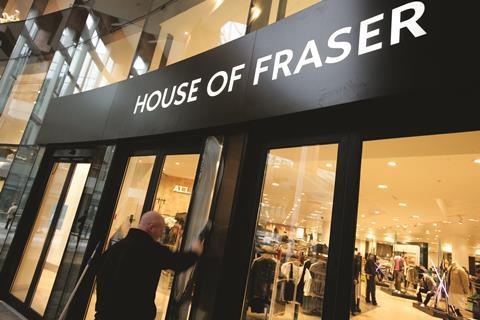 The landlords are challenging the CVA on the grounds of alleged "unfair prejudice against certain creditors" and "material irregularities in the implementation of the CVA".
The embattled department store chain launched its CVA in May in a bid to shut 31 of its 59 stores and slash rents at a number of other locations.
But the plans were slammed by the British Property Federation (BPF), which said House of Fraser had handled the process in an "insensitive" manner.
The BPF's director of real estate policy Ian Fletcher said the retailer had not followed "best practice" after failing to discuss plans with landlords before revealing them publicly.
Fletcher hinted that, as a result, landlords could vote against the CVA when it is formally launched next month, or vote in favour of it "grudgingly".
Although creditors ultimately approved House of Fraser's plans at a crunch vote on June 22, it emerged earlier this month that property giant British Land had voted against the CVA.
Landlords were given a 28-day window in which to launch a legal challenge – an option that a group of property owners have opted to take up.
A joint statement from Mark Fry from Begbies Traynor and JLL's Charlotte Coates said: "Having worked with Mr Philip Holden and Drydensfairfax solicitors and based upon opinion from legal counsel, our group believes that certain landlords have been unfairly prejudiced during this process and that there have been alleged material irregularities in the implementation of House of Fraser's CVA.
"Our clients have therefore taken the decision to formally file a legal challenge to the CVA today, ahead of the July 24 deadline, to protect their interests and seek to ensure that landlords are not unfairly treated in the same way in future CVAs."
The statement added: "We strongly believe it to be unjust for the existing shareholder in House of Fraser to receive £70m of value, the details of which were not communicated initially, whilst certain landlord creditors are shouldering the financial impact of the process.
"It is our view, and that of our legal counsel, that landlords have been disproportionately affected during this CVA process; not only compared to other creditors, but also to how they could have been treated if alternative routes to rescuing the business were fully explored.
"As a group, landlords experienced a complete lack of meaningful engagement and transparency from the outset of the House of Fraser CVA process, despite repeated requests for details on how the company is expected to trade over the next seven months under the CVA.
"To date, no information has been provided to our landlord group, with no guarantees that the business will continue, leaving landlords unable to reasonably assess the likelihood of success or otherwise of the company's future rescue plan.
"CVAs were designed as a means to rescue a business, not simply a tool to shed undesirable leases for the benefit of equity shareholders. They should set out a clear plan for the sustainable future of that business and the proposals should not be disproportionately detrimental to or prejudiced towards a targeted group of creditors. Our landlord group believes that House of Fraser and its advisors have failed on both counts."