House of Fraser has been judged to be in technical default on its loans as the embattled business fights to stave off financial ruin.
Credit ratings agency Moody's has marked the department store chain as in "limited default" and warned its clients that the outlook for the retailer's rating was negative.
Moody's downgraded House of Fraser's credit rating for the second time in eight months amid concerns over its ability to refinance.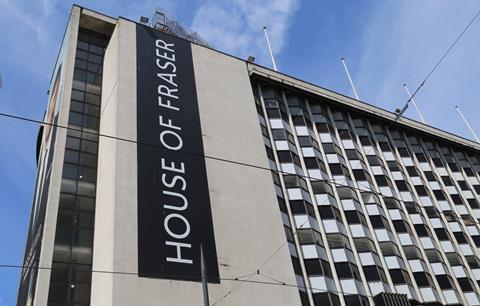 The fresh blow came hours after fellow ratings agency S&P said House of Fraser's new debt arrangements, agreed last week, were "tantamount to a default".
House of Fraser is seeking £50m in emergency funding in order to pay off a short-term overdraft, secure stock for the Christmas period and meet its September quarterly rent bill, understood to be close to £25m.
Planned investment of £70m from Hamley's C.banner may now not be confirmed until late October, after a legal challenge was lodged against House of Fraser's CVA plans.
A group of landlords, represented by Begbies Traynor and JLL, lodged the challenge at the court in Scotland two weeks ago.
C.banner's investment in House of Fraser was conditional on the CVA being approved and the legal challenge has left the business scrambling to secure funds.
Debt and downgrade
As previously reported, Sports Direct tycoon Mike Ashley, who owns an 11% stake in House of Fraser, is in talks with the chain about providing emergency funding in the wake of the hold-up to its CVA.
And last week, House of Fraser secured the right to add £50m more in debts and extend the deadline for repaying a clutch of loans.
But Moody's said: "In December we downgraded the company as its operating performance was below our expectations due to both challenging market conditions and company-specific factors, notably the disruption after the launch of a new web platform, and underperformance of in-house brands.
"Last week we realised that even our lowered expectations will no longer be met and the refinancing risk increased considerably so we downgraded the company another notch."