House of Fraser has been fined after it admitted misleading customers about discounts on its products ahead of Christmas last year.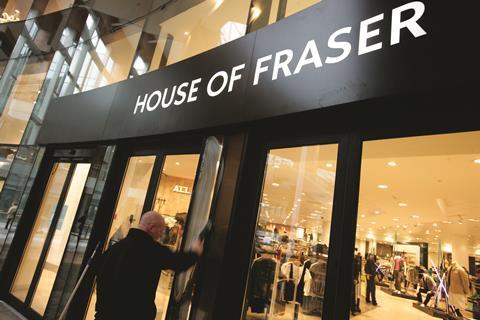 The department store chain was ordered to pay £40,000 after displaying misleading price comparisons on festive sale items, which made shoppers think they were getting a bigger discount.
As part of the investigation, which was led by Torfaen County Borough Council, trading standards officers visited House of Fraser stores in Cwmbran, Cardiff and Bournemouth, and probed its ecommerce platform.
They found that "numerous" Christmas items on sale were labelled with 'was/now' prices, which misled customers into thinking the products had only been on sale at the higher price.
But the retailer failed to disclose any intervening price drops, which meant shoppers were "unaware whether they were receiving a true reduction in price".
Fresh controversy
The verdict will come as a fresh blow to House of Fraser, just days after its boss Nigel Oddy revealed he was quitting the business.
During the case at Newport Magistrates Court, it emerged that just five months earlier – in April 2015 – the City of Westminster Council has written to House of Fraser in response to a complaint about the pricing of handbags.
In the letter, the council made "specific reference" to the fact that House of Fraser was not following Pricing Practices guidelines.
The retailer pleaded guilty to eight offences in total. It was fined £40,000 and ordered to pay £8,501 in costs as well as a £120 surcharge.
Public trust
Sentencing House of Fraser, district judge Martin Brown accepted that the retailer had no previous convictions for such offences, but said: "It may seem to some to be a rather trivial affair, but this is a large retailer in whom the public consider they can place their trust.
"This business practice is one that a company of this standing should have been painstakingly guarding against."
Torfaen executive member for planning and public protection, Councillor Gwyneira Clark, added: "Shoppers have a legal right to expect items on display for sale, both in store and online, to be correctly described and priced.
"This case sends a clear warning to them that our trading standards officers will act in the interests of our residents to crackdown on those who fail to adhere to Government guidelines and consumer protection legislation."
A spokeswoman for House of Fraser said: "At House of Fraser, we are committed to giving our customers great value through price offers and our policy is always to be clear and transparent to ensure that our customers are able to make informed decisions. We regret that on this occasion we did not meet our own high standards.
"Although, the charges related to only a very small selection of products, we have taken additional steps to further enhance our procedures going forward.
"House of Fraser will continue to work hard to provide our customers with great offers to ensure that our customers receive a premium and rewarding shopping experience."