House of Fraser's company voluntary arrangement has been passed by its creditors, paving the way for the closure of half of its estate.
The embattled department store chain now will close 31 stores including its Oxford Street flagship, resulting in 6,000 people being at risk of redundancy.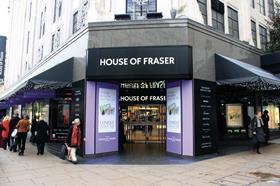 A third of those employees work directly for House of Fraser and the remaining 4,000 are employed by concession partners.
The process leaves House of Fraser with just 28 stores and is expected to take until early 2019.
House of Fraser launched its CVA in May, claiming it was the only viable option for the business, which has struggled amid increased competition, failure to innovate, insufficient investment and a tough consumer environment.
The CVA paves the way for a new majority shareholder, Hamleys' owner C.banner, which is set to acquire the majority holding. Unusually, the acquisition was dependent on the CVA being passed, which angered many landlords.
There has been industry speculation that House of Fraser's CVA was structured so as not to give landlords sufficient power to oppose the vote, with some claiming the group may issue a legal challenge. The vialibility of any legal challenge is not clear at this time but landlords have 28 days to launch a legal challenge.
House of Fraser chief executive Alex Williamson said: "The approval of the CVAs is a seminal moment in House of Fraser's history. We must now continue with the implementation of our restructuring plan. This is also an important milestone in the transaction with C.banner and moves us toward the completion of the capital injection first announced in May."
Chairman Frank Slevin added: "The CVA proposals have been approved by our creditors and we are grateful for their ongoing support and belief in the future of House of Fraser. This was clearly a difficult decision to take but is, ultimately, the only one to secure our future. Our focus is on supporting all of our affected colleagues and we are exploring every opportunity available to them working alongside the Retail Trust and the wider retail community."
Landlord ire
Landlords are very unhappy with the result of the vote and the fact that their opposition has had no effect. "This decision is going to be like pulling the plug out of a grenade," one property source told Retail Week. "Sit back and wait for the explosion."
Landlord body Revo president Mark Williams said: "The fact that House of Fraser is able to proceed with such a fiercely opposed CVA underlines that this legislation is completely broken and needs urgent review. Landlords alone – many of which are pension funds and local authorities – are being made to pay for the mistakes of the business owners, and the Government's failure to reform the business rates system. The impact will be felt up and down the UK in town centres and on high streets.
"This apparent ease with which some retailers are exiting leases entered into in good faith not only deters companies from investing in our town centres, it fundamentally undermines the UK legal system where contract is sacrosanct. Action must be taken now, and we have written to the Housing, Communities and Local Government Select Committee urging them to scrutinise the misuse of CVAs, holding retailers and their advisors to account by calling them to give evidence in front of this committee's MPs."