Fenwick has suffered plummeting full-year profits and axed more than 400 roles as it moves to "embrace change" gripping the retail sector.
The department store operator registered a pre-tax profit of £2m during the 52 weeks to January 26 – a 93.4% slump compared to the previous year.
Fenwick recorded an operating profit of £6.4m before exceptional items during the 2017/18 fiscal year, down from £14.3m a year ago.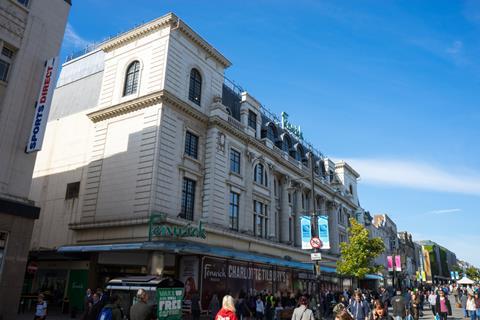 Like-for-like sales slipped 2.6% during the 52 weeks, while gross sales fell 3.6% to £411.1m. Fenwick attributed the drop in total sales on the closure of two stores in Leicester and Windsor, but insisted the figures were "credible" considering it does not yet have a transactional website – something it is expected to pilot in the coming months.
Since the end of its financial year, Fenwick has axed a total of 408 roles as it shifts away from "single store ownership" to a "group ownership" model, led by a central team of executive directors spanning buying, marketing, IT, finance and human resources.
As previously revealed by Retail Week, Fenwick placed "a significant number" of its 3,200 employees into consultation in April as new boss Robbie Feather set about restructuring the business.
Feather told Retail Week the process has resulted in a 12.6% reduction in its headcount.
Two-thirds of the 408 staff to leave the business took voluntary redundancy, Feather said, while 145 workers were given compulsory redundancy packages.
Feather said none of the compulsory redundancies were made among customer-facing shopfloor staff. Fenwick is presses ahead with a drive to "maintain a local reputation and DNA" and differentiate itself through its customer service proposition.
Most of the changes came in management roles and support functions across its nine stores, which previously operated as separate businesses.
Feather, who took the reins in January, just two weeks before the end of Fenwick's financial year, said: "Colleagues and the shareholders recognise that we need to change. The last six months, a big chunk of it has been absorbed by that change agenda.
"We said goodbye to many of those colleagues last Friday, so September 1 is an important date for us. We go live with our new functional-led structure this week and we are embarking on the next period of our change programme. That will increasingly focus on the customer proposition around product, service and services."
As part of the changes, Fenwick's central support functions including finance, IT, legal and HR will now be based at refurbished offices above its Newcastle store.
Its buying teams will be split across its shops in Bond Street, Brent Cross, Kingston and Newcastle.
Feather insisted there were "absolutely no plans" for further job losses and the business now "had the right structure in place" to "embrace the changes" gripping the retail sector.
However, he warned that Fenwick's bottom line was likely to be dented again in its current financial year as a result of restructuring costs and its wider strategy.
It ploughed £25.1m into its new Bracknell store, IT systems and the development of its ecommerce platform last year, and a similar amount will be reinvested this year.
Feather said: "We know the market is tough, but we are also actively pulling away from aggressive discounting. It will be another tough year, but it is what we have budgeted and what we expect."