Debenhams half-year profits have risen 4.3% to £88.9m as the department store group's refocused promotional strategy paid off.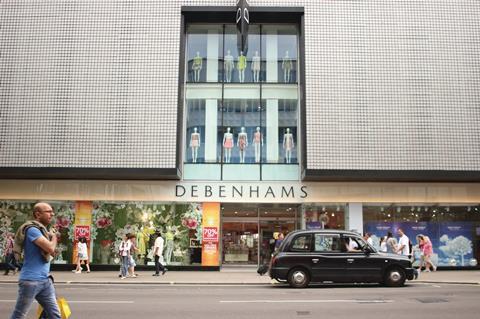 Debenhams said pre-tax profits increased 4.3% to £88.9m in the half-year to February as efforts to retune its promotional strategy helped shift more own-brand product at full price.

Group sales edged up 1.6% to £1.33bn in the 26 weeks to February 28. Like-for-like sales rose 1.3%.

Online sales were up 12.7% to £271.8m. Mobile represented 42% of all online sales. Click-and-collect was up 22.1%.

Debenhams said that initial results of trials with brands such as Sports Direct, Costa, Monsoon and Mothercare had been "encouraging" and would be extended to further stores, and new brands Only and Jack & Jones would be added.

It will also bolster its offer by introducing more third-party food brands such as Joe & the Juice and Insomnia.

The department store group revealed over a year ago that it was trying to wean itself off running too many promotions after heavy discounting had previously had a detrimental impact on profits.

The retailer ran 14 fewer days on promotion in the six-month period, resulting in a total of 39 days fewer on promotion in the 12 months.

The strategy resulted in a 9% rise in own-brand full price sell-through during the period and contributed to the 100bps gross margin rate improvement from the lower prices.

It also said it extended its "first price, right price" strategy across kidswear, menswear and home.
Strategic priorities

Michael Sharp, chief executive of Debenhams, said he was "pleased with the good progress we have made against the strategic priorities" the retailer set out last year.
"We have improved our multichannel offer and successfully introduced the premium delivery options that we promised for the important peak period, which met with a positive response from our customers," said Sharp.
"The continued refocusing of our promotional strategy delivered a strong increase in full-price sales, an improvement in value perception and enabled us to end the half with an improved stock position. Overall we delivered a good first half performance despite a difficult clothing season in autumn and we are on track to achieve full year expectations.
"Looking forward, our customers tell us they are feeling a little more optimistic about the economic outlook, but they remain cautious. Accordingly we are continuing to plan prudently in the near term, while remaining focused on our strategic priorities, and are continuing to invest to ensure that our business is well‐positioned to drive sustainable growth in the longer term."

International franchise store sales including those of its partnership with Danish department store chain Magasin du Nord reported like-for-like sales growth of 9.9%.