Debenhams has revealed a 20.6% slump in full-year group underlying pretax profits as deep January Sale promotions dented margins.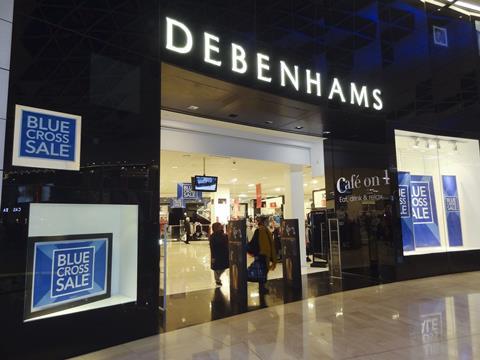 Debenhams group profits came in at £110.3m, in line with market expectations.
The department store group's UK operating profit fell 24.3% to £96.3m, driven by high levels of discounting in the January Sales after lower than expected sales in the run up to Christmas last year. This impacted first half gross margin.
Group like-for-like sales were up 1% in the year to August 30 and gross transaction value increased 1.7% to £2.82bn.
Gross transaction value for the UK increased 0.9% to £2.27bn and revenue was flat at £1.9bn. Sales held up due to strong online growth , a "good" performance in its revamped Oxford Street flagship, and the benefit of two new stores which were opened in 2013 and four new stores in 2014.
Online sales were up 17.6%, representing 15.3% of group sales. Online EBITDA increased 20.5%.
Debenhams chief executive Michael Sharp said: "After the challenges we faced in the first half, everyone in the business has been focused on addressing the issues we identified and on delivering on the priorities we set out in April to deliver long-term sustainable growth.
"Our performance in the second half reflects this with operating profit up on the previous year.
"We achieved higher full price sales and fewer days on promotion as a result of greater clarity on our promotional calendar resulting in an improved gross margin."
Group gross margin for the year was down 60 basis points after slumping by 100 basis points in the first half and recovering to growth of 10 basis points in the second half.
Promotional strategy
Debenhams refocused its promotional strategy in the second half, including launching its summer Sale two weeks later than last year, resulting in a 10.6% increase in own brand full price sell-through and an improvement in the markdown to sales ratio of 3.9% in the second half compared with the same period last year.
Sharp added: "Customers tell us that although they are encouraged by economic improvements this has yet to translate into higher disposable income and the market remains tough. We therefore remain cautious about the outlook and will continue to plan prudently.
"Whilst this has been a challenging year for Debenhams, the brand is strong and our improved second half performance gives us confidence that we are ready for the key Christmas period and can deliver sustainable growth over the longer term."
The retailer aims to optimise its larger stores by introducing complimentary brands. Sports Direct, Costa, Monsoon and Mothercare have all taken space in its stores and Debenhams said initial results "have been encouraging" and the trials are being extended to further stores ahead of Christmas 2014.
The number of visits to Debenhams.com increased by 15% to 276 million, including a 58% increase in visits from mobile devices.
International sales increased by 5.1% to £548.6m and EBITDA was up 9.5% to £42.5m.