The John Lewis Partnership reported a fall in profits in its half-year results despite a rise in sales, and warned staff numbers would shrink in the coming years.
The Partnership said that while sales rose at both John Lewis and Waitrose, pre-tax profits across the partnership dived 14.7% to £81.9m in the six months to July 30.
At John Lewis department stores, operating profit before exceptionals crashed 31.2% despite a like-for-like jump of 3.1%. Waitrose suffered a like-for-like dip of 1% and operating profit before exceptionals plummeted 10.5%.
Here is what we learned from the interim results:
There will be fewer partners in future
Partnership chairman Sir Charlie Mayfield said today: "We will have fewer partners over time as compared to today".
The reduction will be a result of increased productivity and higher pay and the reduction will be gradual.
"Our ownership structure makes it especially important that we manage the partnership carefully and thoughtfully for the long-term," Mayfield said, adding: "We are committed to creating better jobs, for better performing partners, on better pay.
"We intend to ensure partners' pay remains well above the national living wage on average, and in this year's pay review in March rates increased by 5.1% on average for our lowest paid partners."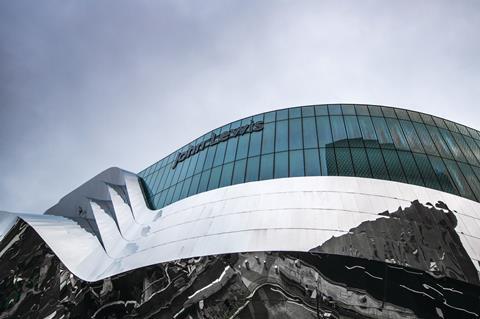 The development mirrors current thinking elsewhere in retail about the future of the workforce: as pay increases so must the complexity and productivity of roles.
Andy Street is going nowhere – yet
Street was coy about his West Midlands mayoral prospects in this morning's call.
In answer to questions about whether he had tapped-up former Waitrose boss and current minister of trade and investment Mark Price for advice on a potential political career he replied: "We are not here to talk about politics this morning.
"I might or might not be going into this depending on the views of the members of Conservative Party of the West Midlands.
"That is a story for another day, all I think I should say is that this business has demonstrated many times that it's not about one person, it is about a team and it's why it is very important to stress how ready for the second half whoever is leading. Nothing is certain yet."
John Lewis may increase prices but only by a small amount
Street took a very different tack on prices to Next's Lord Wolfson, who said that Next would pass on price increases to customers if necessary, as a result of pressure on sterling.
"Currently we are in a very deflationary position," Street said. "We are not expecting that to change before Christmas because we are hedged, like most of our competitors.
"In terms of next year, the situation is a lot less clear. We and indeed others will be unwinding hedging progressively through the year, so we will see increases in input prices rise.
"What is not yet clear is how much will be passed onto the consumer and how much the retailers will absorb themselves. I expect in a competitive market a huge proportion of that will be absorbed by the retailer.
"If you ask me to project forward we will be seeing prices increase – relatively modestly – by the middle of next year. One last thought is that John Lewis is never knowingly undersold and so whatever happens in the market our increases will be the least of anybody."
Waitrose will focus on existing stores rather than more openings
Amid fiercely competitive trading conditions, the focus at the Partnership's grocery business Waitrose will be getting the most out of its existing business. "As we shift the focus of our investment towards our existing branches, the rate of new space growth will slow," said Waitrose managing director Rob Collins.
"It is not about not growing, it is about improving like-for-likes by investing in the core estate," he said. "We are continuing to invest in Waitrose, absolutely."
The retailer aims to exploit opportunities to build its in-store hospitality operations – such as wine and sushi bars – to draw in business as consumers increasingly spend on experieces, not just products.
He maintained that Waitrose's excellence in provenance and quality would contnue to appeal to shoppers. Sales of the upmarket Waitrose 1 range rose 19.4% in the period.