Steve Rowe marked his first full quarter as M&S chief executive with reporting some very bad numbers, especially in clothing.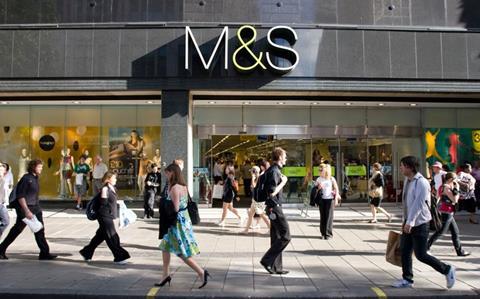 Rowe reported a huge 8.9% like-for-like drop in the all-important clothing and home category, and a 0.9% fall in food like-for-likes. Overall, like-for-likes fell 4.3%.
But Rowe took the bull by the horns this morning, saying: "I want to be candid with you about our results today: these are not the numbers I wanted to see in relation to our clothing and home performance by any stretch.
"But they are the numbers I expected to see, given the strategy announced in May to tackle our number one priority: recovering our clothing business."
Here are five things we learned from M&S' first quarter update.
Clothing and home figures are not as bad as they look
The steep 8.9% like-for-like drop in Steve Rowe's newly christened clothing and home division looks very bad.
In fact, like-for-likes haven't dipped this badly since 2005/2006 when they fell by 11.2%.
The crucial point is that, according to chief financial officer Helen Weir, the impact of the summer sale being moved from quarter one to quarter two is five percentage points. Meaning that underlying like-for-likes actually fell by more like 3.9%.
"That [discounting] is not the game we are going to play. We are going to trade the business properly and offer good value for our customers"

Steve Rowe
Also important is the impact of Rowe's new pricing strategy – more on that later – and the effect of the horrible weather over M&S' first quarter.
Primark, which released its third-quarter trading update today, said that its own like-for-likes were "adversely affected by unpredictable weather patterns".
So, definitely not the headline figure Rowe wanted to present this morning – but not as bad as on first glance.
Rowe is insisting his strategy is the right one in the long run
Rowe has made a huge move away from discounting and that, as alluded to above, has had a negative impact on sales.
But he was resolute: "I have been very clear that we must break this [discounting] cycle. It is damaging our business and not sustainable in the long term so we have taken action to address this.
"That [discounting] is not the game we are going to play. We are going to trade the business properly and offer good value for our customers."
Rowe has trimmed discounting significantly: in its previous financial year M&S had nine clearance sales. This year there will be six, and next year Rowe is trimming it to four.
"Lowering prices will become harder over the next 18 months as inflationary pressures will rise following Brexit"

Honor Strachan, Verdict
At the same time, he has introduced an everyday low pricing strategy. Last quarter the average price drop was 12% across reduced items. This quarter that has accelerated to 17%.
Rowe is pleased with the increase in sales volumes that have been associated with that. He gave the example of women's leggings going from a rather steep £19.50 to a more reasonable £15 and sales volumes increasing 149%.
However, the average price reduction for the first quarter was just 3%, which Rowe said was due to the fact the price startegy had only just been implemented.
Analyst Honor Strachan at Verdict raises an interesting point, saying that although Rowe is committed to everyday low pricing, Brexit could stymie that.
"Lowering prices will become harder over the next 18 months as inflationary pressures will rise following Brexit," she says.
"It will be difficult for M&S to absorb these costs and maintain its new price strategy, so we expect its price architecture to stretch higher so it can pass higher costs on to the shopper via its better and best proposition – especially since there will be little flexibility in the supply chain, with the retailer having already made cut backs, worked with suppliers to reduce prices and absorbed the rise in national living wage costs."
Rowe himself admitted that growing like-for-likes would take time.
He said: "I think we are going to have substantial changes to product in the autumn but it takes time for customers to notice these things and it is too early to say when we will see the changes taking effect".
Rowe believes that cyber days damaged the M&S brand
Rowe scrapped five of six 'cyber days' – online promotional events – for this quarter; another reason for the drop in like-for-likes.
Cyber days saw products being sold more cheaply online than in-store, and Rowe wasn't a fan.
"Really difficult this quarter were those cyber days," he said. "They were fairly huge and it was really important we came away from those."
He added that cyber days were the "most damaging in terms of our perception to our customers".
M&S has not seen a huge drop off in shopper numbers post-Brexit
Rowe said today that M&S saw consumer confidence begin to experience tremors in November, and that it steadily worsened in the run up to Brexit.
Rowe spoke of the "noise" in sales figures which came from a promotion at this time last year, saying that it was very difficult to measure comparable sales for the post Brexit period. He did, however, say that shopper numbers have held firm since Brexit.
"We are operating in uncertain times," he said today. "Consumer confidence remains fragile. [We] are confident that our strategic priorities are the right ones to deliver for our customers and our business."
Weir went further, saying that she believed "the actions we are taking are even more important in terms of market we are seeing, I think it is exactly on track".
Food may be down – but Rowe isn't worried
The early Easter hit M&S food sales but Rowe was unconcerned about the drop this morning and said he was "comfortable" with future trading prospects.
"We had a marginal fall in a market that is weak and has deflation running through it at 4%," he said. "We continue to be a long way ahead of the market and, frankly, we were quite pleased with our performance – it is steady as she goes."
The Simply Food model continues to be rolled out: 575 stores exist so far, with 11 opening so far this year and 200 more to come over the next three financial years.
Across the business, the next few quarters will be more illuminating, and will show whether this quarter is a painful one-off required to turn the M&S ship around, or whether Rowe's strategy is not the right path. Rowe may yet regret his comment on starting the job that retail is "a very simple business".