Sales at John Lewis department stores rocketed 20.1% last week to £77.1m, boosted by the summer clearance Sale.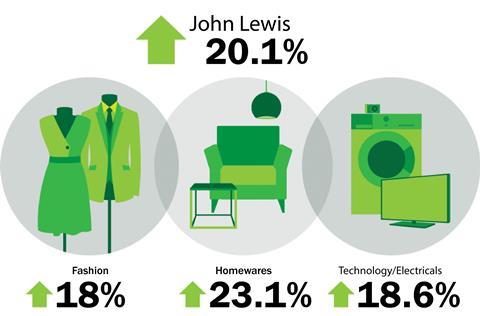 John Lewis experienced strong demand in stores and online in the period to July 12. Stores overall generated a 16% uplift in revenues and four – Chichester, Exeter, Ipswich and Tunbridge Wells – were ahead year on year by 40% or more.
John Lewis's online arm recorded a 31.5% increase in revenues.
The home category was up by 23.1%, driven by special buy assortments. Wedding gift list sales advanced 12% as the season got into full swing.
Electricals and home technology sales climbed 18.6% and it was the third biggest week of the half – which ends in a week's time - for large electrical goods.
Fashion sales advanced 18% and there was especially strong demand for own-brand products.
John Lewis director of selling David Barford observed of the week: "As well as a healthy appetite for clearance stock we are also, pleasingly, seeing customers beginning to buy from the new season lines as they come into stock."
Sales at sister grocery business Waitrose fell 1.1% in the week, which was against a tough comparative last year.