The unassuming husband-and-wife team behind Card Factory has turned it into a winning business with a £350m price tag.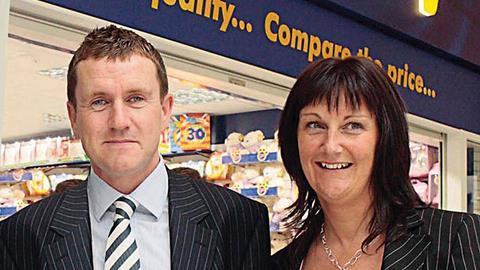 Entrepreneur Dean Hoyle, one half of the husband-and-wife duo behind Card Factory, began his retail career selling cards from the back of his van in his native Wakefield. That was in 1993. Now, in 2010, the couple could be in line for up to £350m for tche greetings card business, which was put up for sale in January, with final bids due today.
Currently standing at about 480 stores, with plans for many more, Card Factory is the most profitable greetings card chain in the country, and has prospered in the recession while rivals have floundered. Both Dean and his wife Janet, who opened their first store together in 1997, bring their own expertise to the business. Janet is considered the creative of the two, heading the design team, while football-mad Dean, owner and chairman of his beloved Huddersfield Town Football Club, is the commercial brain of the operation.
One source familiar with the pair says: "Janet is the design person, that is where she adds value. Dean is a very intuitive, commercial retailer."
The duo have taken a back seat recently to spend more time with their children. It is not yet known if they will retire from the business after a sale, with sources close to the couple split over their intentions. Both are "integral" to Card Factory and a sale might be hard to achieve if they sell completely, according to a source close to the process.
Apart from its non-executive chairman Keith Pacey, who is executive chairman of Maplin, there are few experienced retailers in senior positions within Card Factory. For instance, the Hoyles hired their bank manager Richard Hayes as managing director, while Chris Beck, who heads up commercial, joined from accountancy
firm Grant Thornton. Group finance director Darren Bryant joined from PricewaterhouseCoopers.
Dean is considered the "engine room of the business", according to one source, but having achieved his ambitions of growing the retailer into a near 500-store chain, he "now has aspirations in other directions". Namely, football. "I very much doubt he'll go back to retail," says the source. "He is a massive football fan and wants Huddersfield to do the same thing in the football world that Card Factory did in the card world - make it affordable [to the fans]."
However, another source said Dean would want to be involved with Card Factory in some way beyond the sale.
A "typical Yorkshire lad", Dean, born in 1967, is described as being brisk and to the point. "He knows what he wants and works very hard to get it," says the source. One colleague says Dean and Janet are "lovely people and great to work with".
Dean attributes his down-to-earth nature to his working class roots, having come from a family of miners and textile workers. According to reports, he left school with no qualifications because he was too interested in football. It has not done him any harm. He has been officially recognised in business circles, being named the Ernst & Young UK Retail and Consumer Products Entrepreneur of the Year 2009. Judges praised him for changing the industry model by "vertically integrating his business, securing his cost base and speed to market".
The recession provided opportunities for the couple, who mopped up market share as Birthdays was plunged into administration by owner Clinton Cards last year and Celebrations disappeared from the high streets altogether in 2008. Card Factory took advantage and snapped up 80 stores.
Dean has said he wants to give Card Factory customers the experience of shopping in Harrods, while paying Netto prices. "We're trying to give that kind of experience," he says.
The couple like to keep their heads "below the radar", according to Dean, who says maintaining privacy has become difficult as the business has grown. With the level of interest in the business, staying out of the public eye may be about to get all the more harder.