Tesco's turnaround continues to gather momentum as it posts its strongest quarterly sales performance in 18 months, according to Kantar figures.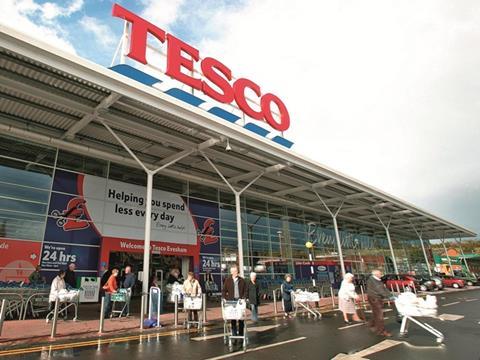 Tesco sales increased 1.1% in the 12 weeks to March 1, while its market share decline slowed, dropping just 0.1% to 28.7%, Kantar Worldpanel said.
Asda was hardest-hit by Tesco's resurgence, recording its worst performance in more than 20 years as sales fell 2.1% and market share dropped from 17.5% to 17%.
Sainsbury's suffered a 0.2% drop in market share to 16.8%, while Morrisons lost 0.1% share, falling to 11%.
Discounters Aldi and Lidl now hold a combined 8.5% of the grocery market, Kantar Worldpanel reported.
Aldi's sales soared 19.3% compared with the same period last year, while Lidl's rose 13.6%.
Upmarket grocer Waitrose also delivered a sales increase, rising 4.9% after selling more products on promotion to compete on price.
Food inflation hits new low
Aggressive price competition between the supermarkets has driven grocery deflation to a new low of -1.6%, saving shoppers £400m during the 12-week period to March 1, Kantar added.
Kantar Worldpanel's head of retail and consumer insights, Fraser McKevitt, said: "All of the major supermarkets are cutting prices to win shoppers, especially within everyday staples such as eggs, vegetables and milk. Retailers are focusing their efforts on simple price cuts rather than complicated 'multibuy' deals.
"Among the big four supermarkets Tesco has been the standout retailer. It has posted its strongest performance in 18 months, with sales up 1.1% compared with a difficult 2014.
"Increasing sales have helped Tesco arrest its falling market share, which is down just 0.1 percentage points compared with last year.
"This resurgence has impacted Asda, which competes for many of the same shoppers as Tesco."