The retail weather forecast from Saturday July 21 to Friday July 27, 2018: warm temperatures return after slight cool down.
The week last year
Showers fall somewhere in Britain each day of the week. Temperatures run near to above normal.
The week this year
Temperatures will come down a bit from the weekend into the early working week but will still be above last year and normal. Low pressure moving into France will spin some showers into the South, and some thunder is possible. By Tuesday or Wednesday unusually warm conditions will return to the country with high temperatures well into the 20s. Scotland and Ireland will likely have some late week showers and cloudy skies but temperatures will see little drop off.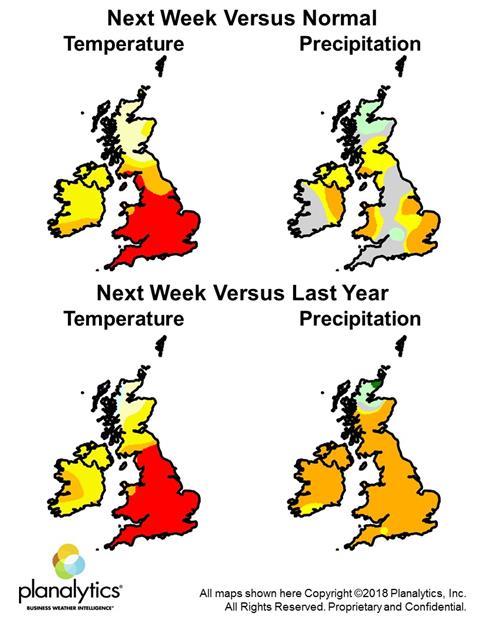 Mindset
Little change for this week. Sunny weather means continued strong demand for sunscreen, shorts and t-shirts. Warm summer temperatures continue to push sales of cold drinks and ice cream.
For more information on the forecast, contact Tim Morris on 020 7321 3715 or tmorris@planalytics.com; www.planalytics.com.
For more key retail data and analysis from Retail Week, go here.