Morrisons has returned to growth and was the only one of the big four to increase grocery sales year-on-year during the 12 weeks to May 24.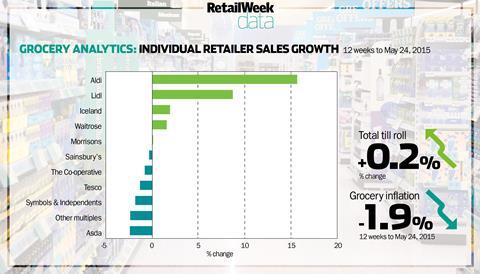 First growth for Morrisons since December 2013
Asda and Tesco sales drop 2.4% and 1.3% respectively
Lidl hits record market share
In a rare piece of good news for Morrisons, it returned to growth for the first time since December 2013 as sales edged up 0.1% during the period amid a tough market for the big grocers.
Asda was hit the hardest of the big four, its sales dropped 2.4%. Tesco and Sainsbury's recorded a 1.3% and 0.3% sales drop respectively.
Kantar Worldpanel head of retail and consumer insight Fraser McKevitt believes the figures will be a "welcome boost for [Morrisons'] new chief executive David Potts".
He said: "A committed core of loyal Morrisons consumers is responding positively to recent initiatives and business has been boosted by online sales.
"Morrisons' performance is an improvement on what was a difficult May 2014, so this is only the first step in any future recovery. All of the major supermarkets are finding growth difficult as prices have been declining since September 2014."
Grocery products are 1.9% cheaper than this time last year, but the fall in prices appears to be decelerating. In last month's Kantar figures, prices were down 2.1%.
Kantar forecasts prices will start to rise by the end of the year.
Discounters Lidl and Aldi continued to report strong growth despite the deflationary market.
Lidl's sales growth of 8.8% helped it reach a record high market share of 3.9%, up from 3.6%. Its performance was fuelled by more consumers visiting stores and the average basket containing more items.
Aldi's sales surged 15.7% during the period, helping it to take a 5.4% share of the market.
Total till roll
12 weeks to May 25, 2014
12 weeks to May 24, 2015
£m
Share of total grocers (%)
£m
Share of total grocers (%)
Total grocers
25,395.09
100.00
25,449.34
100.00
Total multiples
24,869.60
97.93
24,933.32
97.97
Tesco
7,376.19
29.05
7,282.37
28.62
Asda
4,340.98
17.09
4,237.29
16.65
Sainsbury's
4,199.10
16.54
4,186.86
16.45
Morrisons
2,779.39
10.94
2,783.34
10.94
The Co-operative
1,535.29
6.05
1,523.96
5.99
Waitrose
1,292.40
5.09
1,313.24
5.16
Aldi
1,195.84
4.71
1,383.68
5.44
Lidl
902.54
3.55
981.56
3.86
Iceland
516.30
2.03
526.33
2.07
Other multiples
731.59
2.88
714.72
2.81
Symbols & Independents
525.49
2.07
516.02
2.03