The two embattled grocers have continued their fightback by outperforming the market, according to the latest Kantar Worldpanel data.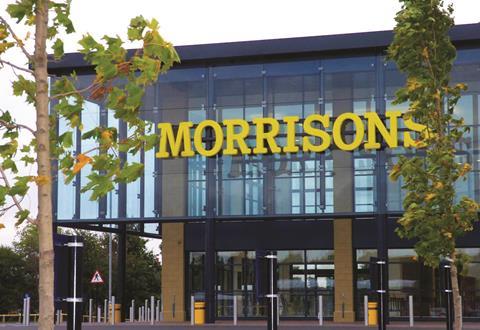 Morrisons records sales rise as big four rivals suffer
Co-op outperforms market for first time in four years
Aldi, Lidl and Waitrose all continue market-beating growth
Morrisons continued its recovery as sales for the 12 weeks ending June 21 increased marginally, building on momentum from last month's Kantar data, while rival the Co-op recorded sales ahead of the market for the first time in four years.
Morrisons returned to growth for the first time since December 2013 in the 12 weeks to May 24 and under new boss David Potts it has continued that momentum as sales grew 0.6% year on year. It marks the second month in a row that Morrisons has outperformed the big four, with an increase in online shopping driving the figures.
It meant the grocer's market share edged up 0.1 percentage points to 11%, compared to the same time a year ago − the first time Morrisons has gained market share since December 2011.
Big four decline
Morrisons' big four rivals all experienced a drop in sales during the period, according to Kantar.
Sales fell by 1.3% at Tesco, driving its market share down from 28.9% last year to 28.6%. Sainsbury's sales dropped by the same percentage, as its market share slipped 0.2 percentage points to 16.5%.
Asda's sales were down 3.5%, leaving the grocer with a 16.5% market share compared with 17.1% last year.
In contrast the Co-op recorded flat sales, but these were ahead of the market for the first time in almost four years and helped the mutual's market share "hold steady" at 6.2%.
Kantar said the sales were "helped in part" by more shoppers visiting stores.
Discounter Aldi continued to gain market share as it reached a new high of 5.5% of the UK grocery market, up an impressive 0.8 percentage points on the year. That was driven by sales gains of 15.4%.
Aldi joint managing director of buying Tony Baines said: "These latest figures mark our fourth year as the UK's fastest growing grocery retailer. Our popularity is down to Aldi's very simple approach of offering the best product range and quality at unbeatable prices.
"Our customers tell us that they want low prices on quality products and we're maintaining a significant price gap of at least 15% on an average basket of goods.
"Our operational efficiency means that we're able to lead on price whilst making our biggest ever investment in the UK this year through our store expansion programme and job creation."
"The long term relationships we have forged with suppliers is a key factor behind our growth and the positive feedback we received from the Groceries Code Adjudicator supplier survey shows the value and importance that we place on our supplier relationships. We have worked with many of these businesses since we first entered the UK market 25 years ago. The investment we have made in this network ensures that we can continue to provide high quality products to our customers."
Discount rival Lidl's market share increased to 3.9% compared with 3.6% during the same period in 2014, as its sales jumped 9.1%, while upmarket grocer Waitrose also grew ahead of the market. Its sales rose 1.2% as it increased its market share from 5% to 5.1%.
Total till roll
12 Weeks to 22 June 2014
12 Weeks to 21 June 2015
% Change
£millions
% **
£millions
% **
%
Total Grocers
25,391
100.0%
25,378
100.0%
-0.1%
Total Multiples
24,873
98.0%
24,857
97.9%
-0.1%
Tesco
7,347
28.9%
7,249
28.6%
-1.3%
Asda
4,341
17.1%
4,190
16.5%
-3.5%
Sainsbury's
4,238
16.7%
4,182
16.5%
-1.3%
Morrisons
2,777
10.9%
2,794
11.0%
0.6%
The Co-operative
1,563
6.2%
1,563
6.2%
0.0%
Waitrose
1,272
5.0%
1,288
5.1%
1.2%
Aldi
1,205
4.7%
1,391
5.5%
15.4%
Lidl
904
3.6%
987
3.9%
9.1%
Iceland
509
2.0%
516
2.0%
1.4%
Other Multiples
716
2.8%
699
2.8%
-2.4%
Symbols & Independents
518
2.0%
521
2.1%
0.5%
Market decline
Kantar added that groceries are now 1.7% cheaper compared with a year ago. Prices have been falling constantly since September 2014, but the rate of decline is slowing. Kantar predicted that prices will rise again by the end of this year.
The overall market slipped back into decline during the period, with 0.1% less going through the tills compared with last year.
Kantar Worldpanel head of retail and consumer insight Fraser McKevitt said: "Last seen in November, the return to marginal decline across the grocery market reflects both falling prices and only steady volume growth.
"Sales volumes are up 2% compared to a year ago but are not anticipated to accelerate, even with an improving economy, as demand for groceries has remained broadly steady since before the recession."