Although not as big a fall as last period, the toiletries market continues its ongoing struggle with a 2.1% decline YoY, according to Kantar Worldpanel.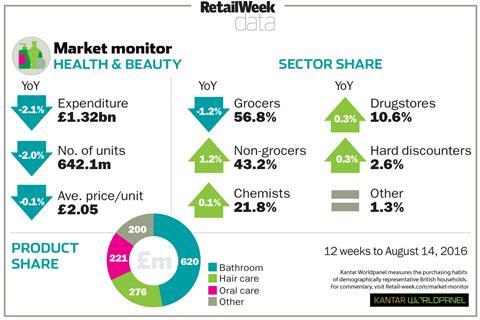 With prices static, the 2% YoY fall in pack sales has continued to push sales down.
Oral care remains the only toiletries category in growth but is slowing, recording a 2.8% YoY increase in sales. Mouthwashes restricts further growth but the sub-category's decline has slowed to -0.4%.
Skincare (+4.9%) and depilatories (+3.6%) have been the main winners in bathroom toiletries. However, men's skincare and sun preparations have driven a YoY decline (-1.3%) in bathroom toiletries.
Haircare continues to experience the greatest losses with all sub-categories seeing decline in this period. This has been driven by Asda which has seen spend fall by 19% YoY in this category.
All of the big four record another period of loss in the toiletries market. Asda continued to be hit the hardest with a £17m loss in sales, and losing 1.5 share points. Asda's struggles in this market reflects its decline at total grocery level.
Hard discounters continue to grow their market share up to 2.6%. Lidl (+12%) has a slightly higher YoY percentage growth than Aldi (11%). In contrast to Asda, this highlights Lidl's emerging growth at total grocery level – bargain stores have increased their rate of toiletries growth from last period up to 5.7% YoY. This has largely come through Home Bargains, which has excelled in oral care, recording a 12% rise in this category.
Kantar Worldpanel measures purchasing habits of 15,000 demographically representative British households. For more information, visit kantarworldpanel.com