Amazon sees a very small drop in share of total entertainment (26.7 to 26.7%) but maintains a strong lead.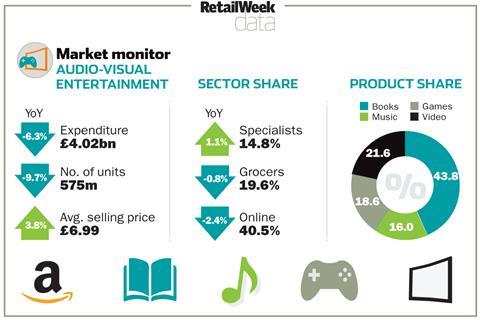 Books
Amazon continues to lead the books market, with more than 10% pts separating it and Waterstones (33.2% and 21.2% respectively). The smaller specialists struggle this period, dropping 1% pt share to 5.1%.
Music
Again we see iTunes losing share – this period saw a 6% pt decrease, bringing its share down to 20.1%. HMV's good performance in video is mirrored in music, with a 2.8% increase in share boosting the specialist to 19.2%.
Games
Game has increased share to now take a third of all physical game spend (33.2%) Argos now take the second spot with 13.9% of share growing by 2.9 ppt in the latest year. Amazon have struggled and now take the third spot with 13.6% and share falling by 5.5ppt from last year.
Video
In physical video HMV have had a strong performance growing by 1.3ppt to a 21% share, second to Amazon with 23.9%. Asda have struggled with a share loss of -2.5% to hold a 9.3% share of the video market.
Kantar Worldpanel measures purchasing habits of 15,000 demographically representative British households. For more information, visit kantarworldpanel.com