Overall Amazon holds the highest share of spend in audiovisual entertainment (26.5%) but has decreased its share by 0.53pp year on year.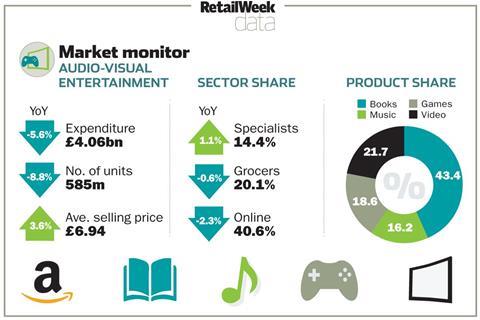 Books
Amazon remains the lead retailer in books (33.23% versus 32.6% last year), while WHSmith lost share in second position with 10.5% (10.6% last year). Tesco is still the leading grocer, with 3.3% of spend.
Music
In the music market, Amazon leads with growth in share versus a year ago, 27% compared to 26.5%, while iTunes experienced a loss of share from 26% to 21.2% of spend. HMV gained share versus a year ago with an 18.3% share (16.2% last year).
The main grocers have also increased their share of spend in music. Tesco holds a 6.8% share (versus 5.5% last year) and Sainsbury's holds 4.8% (4.4% last year).
Games
In the games market, Game continues to hold a significantly higher share of spend to any other retailer with 29%, a 3.6pp increase in share versus last year.
Physical video
Finally, in the physical video market, Amazon holds the biggest share (23.6%, 0.1pp higher than a year ago). HMV in turn has increased its share to 19.9% versus 19.1% last year. While in third place, Tesco lost share: 16.7% from 17.3% last year.
Kantar Worldpanel measures purchasing habits of 15,000 demographically representative British households. For more information, visit kantarworldpanel.com