Waitrose posted a jump in sales last week following a solid start from waitrosekitchen.com, a new website dedicated to kitchen products.
Sales at the grocer increased 4.2% to £125.2m year on year for the week ending October 24.
Waitrose commercial director Mark Williamson revealed sales at waitrosekitchen.com "performed well in its first week".
Meanwhile, online grocery sales surged 24% during the week, boosted by a customer promotion.
The darker evenings have also resulted in an increase in take-away style foods. The 'big night in' Indian meal promotion proved "particularly popular", while shoppers also bought 11% more pizzas than the same period last year.
Sister retailer John Lewis revealed it had a strong start to the week as sales grew 2.1% to £85.2m.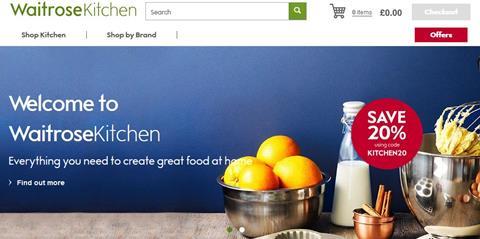 However, sales dropped back midweek due to the department store being "up against colder weather sales last year".
Fashion sales were up 5.9% in the week as the Collaborations range surged 48.4%, while furniture sales jumped 7.6%. Once again electricals sales were "challenging" and dipped 4.3%.
John Lewis director of selling for London and the South David Barford added: "The Oxford Street home department refurbishment is delighting our customers from far and wide and the branch has seen an increase in sales from the newly opened areas."