John Lewis' sales were buoyed by a strong performance at Waitrose last week, as consumers stocked up on essentials for the warm weather.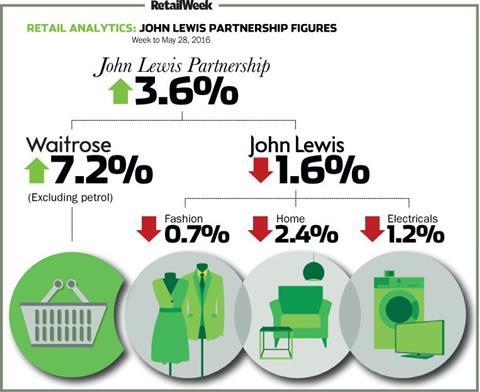 Waitrose's sales over the bank holiday weekend rose 7.2% for week 17 of the financial year.
Sales were slightly distorted by the fall of the bank holiday. The business calculated that sales were up 3.7% on a more easily comparable basis.
Sales at Waitrose increased 2.8% in the 17 weeks to May 28.
Waitrose commercial director Mark Williamson picked out barbecue meats, sales of which rose 28% and food to go, which were up 20%, as particularly strong performers.
He added: "The start of English Wine Week prompted further interest in this rapidly growing category. Sales of our range of English and Welsh wines were 15% higher."
Overall, sales at the Partnership rose 3.6% in week 17 and 3.7% in the 17 weeks to May 28.
At John Lewis, weekly sales fell 1.6% but rose 5.2% in the 17 weeks to May 28.
The department store chain said the same week last year included both the bank holiday and half term and that this distorted sales comparisons. While Waitrose benefited from a sunny bank holiday, John Lewis customers were less likely to shop for clothes and homewares.
Fashion fell 0.7% despite a strong performance from women's casualwear, up 9.8% owing to John Lewis price matching a competitor's promotional activity. Women's swimwear and nightwear were also up 7.9%, with the beginning of the holiday season and some warm weather.
Electricals and home technology fell 1.2% despite 9.4% growth in communication technology.
Home sales fell 2.4%, although beds and bedrooms saw an uplift of 4.1%.