Aldi is the largest international retailer in the UK, ahead of Amazon and Lidl.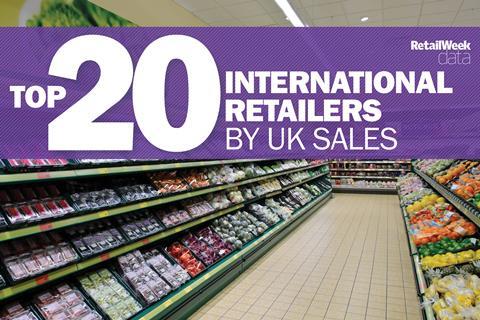 Ranking

| Rank | Retailer | Country of origin | 2016/17 UK sales (£m) |
| --- | --- | --- | --- |
| 1 | Aldi | Germany | 7,430 |
| 2 | Amazon | US | 5,700 |
| 3 | Lidl | Germany | 5,130 |
| 4 | TK Maxx | US | 2,056 |
| 5 | Ikea | Sweden | 1,712 |
| 6 | Apple | US | 1,024 |
| 7 | H&M | Sweden | 1,041 |
| 8 | Inditex | Spain | 710 |
| 9 | QVC | US | 485 |
| 10 | Toys R Us | US | 418 |
| 11 | Gap | US | 276 |
| 12 | Uniqlo | Japan | 267 |
| 13 | Urban Outfitters/Anthropologie | US | 172 |
| 14 | Abercrombie & Fitch/Hollister | US | 160 |
| 15 | Decathlon | France | 152 |
| 16 | Dunnes Stores | Republic of Ireland | 128 |
| 17 | Claire's | US | 122 |
| 18 | Foot Locker | US | 121 |
| 19 | Disney Store | US | 120 |
| 20 | Victoria's Secret | US | 106 |
International retail brands in the UK
Aldi has come out on top in a ranking of the largest international retailers in the UK, with Amazon still trailing by a considerable distance. Fellow German discounter Lidl completes the top three.
The list is ranked by the level of UK sales generated by overseas retailers. However, it only includes international retailers that have brought their own trading names with them. It therefore excludes businesses such as Asda and The Body Shop that were originally established in Britain, but have since come under foreign ownership.
Strong and distinctive branding is key
Looking at the top-ranked retailers, it is clear that those with strong branding have thrived in this country.
Retailers like H&M, Ikea and Victoria's Secret have very distinctive brands and combine that with a unique offer.
Having such a strong global brand mitigates some of the operational challenges involved in setting up operations from scratch as less time needs to be spent on marketing to create demand.
It also becomes easier to differentiate from the local competition.
International retrenchment
However, the UK retail scene is extremely competitive and this ranking is not exclusively populated by 'winners'.
Gap is a prime example of a retailer that arrived on these shores with a strong brand, but has since lost much of its lustre.
With its UK business in terminal decline, and now accounting for less than 2.5% of its global sales, it remains to be seen how much longer Gap will remain committed to the country.
Indeed, it already pulled the plug from its Banana Republic fascia in the UK last year.
Toys R Us is another example of an international retailer that is struggling to stay relevant – although its woes in the UK pale in significance to its problems in its domestic US market, where it was forced to file for bankruptcy protection earlier this year.
Other retailers that have scaled back their presence include Forever 21 and American Eagle Outfitters – both of which did not generate enough sales to make it into this ranking.
UK remains a challenging market for overseas retailers
Much has been said about the inability of UK retailers to crack the US market, but the same can be said for international retailers in the UK.
Challenges that retailers are faced with include much higher rents and business rates than in their home countries. They also need to win over savvy consumers with lots of options.
It therefore takes time and effort to truly conquer the UK market and many international retailers find that they don't have the persistence or resources to pull this off.
There is also a sense that overseas retailers might be overestimating the willingness of UK consumers to pay top dollar for their brands.
Straight conversions of prices from dollars to the pound have been the order of the day for many US fashion retailers, but in a marketplace where discounting is already so widespread, this tactic does impact demand.
As the retail environment looks set to become more challenging due to consumer uncertainty, and the pound remains weak, it could be the case that more international retailers will start to question their UK strategy over the coming years.
Methodology
This ranking covers sales generated by international retailers that have entered the UK market under their own trading names and excludes British retail brands that have come under foreign ownership.
Aldi, Amazon and Lidl are Retail Week Prospect estimates
Amazon are sales through Amazon.co.uk
Ikea, Apple, H&M, Uniqlo, Claire's, Disney Store and Victoria's Secret show 2015/16 figures
H&M, Inditex and Urban Outitters figures are combined turnover of all their fascias
Uniqlo includes some turnover from stores in Europe
The analysis was based on data compiled by Retail Week Prospect, an intelligence service offering insight and analysis on the UK's leading retailers.