How can retailers gain trust from consumers?
In a fiercely competitive retail market, understanding consumers, creating loyalty and gaining their trust has arguably never been more important.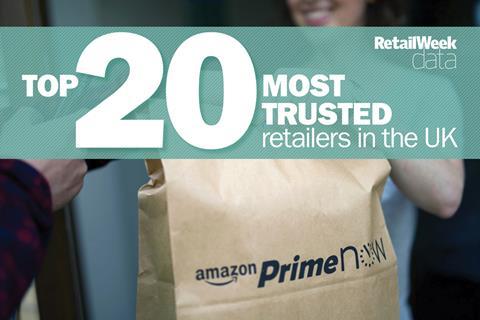 | Rank | Retailer | Trust (% of shoppers) |
| --- | --- | --- |
| 1 | Amazon | 50% |
| 2 | Tesco | 39% |
| 3 | Sainsbury's | 33% |
| 4 | Boots | 33% |
| 5 | Marks & Spencer | 32% |
| 6 | John Lewis and Waitrose | 28% |
| 7 | Argos | 27% |
| 8 | Asda | 24% |
| 9 | Co-op | 21% |
| 10 | Morrisons | 21% |
| 11 | Debenhams | 20% |
| 12 | Specsavers | 20% |
| 13 | Next | 19% |
| 14 | Ikea | 18% |
| 15 | B&Q | 15% |
| 16 | Asos | 10% |
| 17 | Carphone Warehouse | 10% |
| 18 | Topshop/Topman | 9% |
| 19 | Gap | 8% |
| 20 | Optical Express | 7% |
With General Data Protection Regulation (GDPR) poised to come into force next year, the issue of trust in particular will come increasingly under the microscope.
But which retailers are setting the bar in terms of the levels of trust they have established among their customer base?
According to research by independent data communications agency REaD Group, Amazon emerged as far and away the most trusted retailer in the UK.
Although supermarket giant Tesco − which has worked hard to restore trust under Dave Lewis − and its big four rival Sainsbury's finished second and third respectively, the grocery duo came some way behind the US etail titan.
Despite their success, the overall picture was not so pretty for the wider retail sector.
According to REaD Group's research, just 24% of people surveyed said they were likely to trust retail and leisure businesses with their personal data, compared with 44% who would trust banks.
REaD Group founder and chairman Mark Roy says: "Trust is becoming the defining factor in creating lifetime value.
"In a world of increasingly commoditised relationships, creating trust with consumers allows you to have a more intellectual relationship based on both experiential delivery as well as emotional engagement."
So what should retailers be focusing on in a bid to rebuild trust in their businesses?
Meet and manage expectations
Retailers scoring highly in REaD Group's "trust survey" were praised for delivering exactly what they had offered to shoppers.
Amazon, for instance, gained the trust of many consumers for consistently fulfilling orders on time and delivering products as advertised on its website.
"It's extraordinarily difficult for retailers to meet expectations. The critical thing is for retailers to make sure they manage expectations"

Mark Roy, REaD Group
But as more traditional retailers attempt to play catch-up to their etail rival, particularly when it comes to speed of delivery, some find themselves failing to come good on their same-day or next-day pledges.
"It's extraordinarily difficult for retailers to meet expectations. The critical thing is for retailers to make sure they manage expectations," Roy says.
"In terms of speed, quality and price, are you ever going to get all three?
"If you're buying a cheap garment, for instance, consumers have an expectation that it isn't going to last forever. But the problem comes when retailers overstep the mark in terms of managing expectations.
"My tip for retailers: be open, honest and transparent, and actively manage that expectation so that you always under-promise and over-deliver."
Retailers that do just that will ultimately gain trust and loyalty from their shoppers.
Leverage loyalty schemes
Retailers with loyalty schemes performed well in the trust survey.
In fact, Amazon, Asda and Argos are the only entrants in the top 10 not to boast their own loyalty schemes, although Argos has now adopted the Nectar card following last year's acquisition by Sainsbury's.
"There is clear evidence, within this survey, that brands who have long standing and effectively engaged loyalty schemes are now doing significantly better than brands that don't," REaD Group says in its Retail Trend Report.
Loyalty schemes that offer regular advantages and rewards to cardholders – and deliver on their promises – add value to the relationship between retailer and customer, building trust and making consumers more likely to shop with them in the future.
Indeed, Nielsen's 'Perspectives on Retail Loyalty Program Participation and Perks', published late last year, found that 84% of consumers are more likely to shop with retailers that offer customer loyalty programmes.
Perhaps a lack of loyalty scheme has contributed to Asda's decline in sales and its eighth-placed finish, although it did come above Morrisons, which only revamped its ailing Match & More loyalty scheme two years ago.
Be tactile with customer communications
As GDPR comes into play, Roy believes retailers will need to become "more tactile" in how they communicate with their customers.
"The ability to send emails saying 'we've got some cheap clothes here' is going to be much, much harder," he says, suggesting that "less frequent, but more valuable communications" will become the order of the day.
"Consumers have been saturated with digital communications and increasingly are demanding the sort of contact that a store and staff deliver"

Mark Roy, REaD Group
Indeed, he suggests that retailers could even step back from email communications completely and return to traditional face-to-face contact in order to build trust.
"Consumers have been saturated with digital communications and increasingly are demanding the sort of contact that a store and staff deliver," Roy explains.
He draws on the example of A-Plan Insurance which, amid the rise of comparison websites such as Compare the Market and Go Compare, has expanded to operate more than 80 branches on high streets across the UK.
Such personal, tactile communication between A-Plan's staff and customers has allowed it to instil a greater degree of trust among customers and even upsell from motor insurance, for instance, to other areas such as home, health and pet cover.
Retailers could learn plenty of lessons from that particular example.
Build an online following
When it comes to building trust within your brand, the strength of recommendations, online reviews and positive social media anecdotes should not be underestimated.
"In terms of what makes people buy, there were two stand-out things," Roy explains.
"One is an incentive off the back of a loyalty scheme, but the other is recommendation. Personal recommendation − your mate on a Sunday in the pub saying 'you've got to get one of these' − is huge."
Although Amazon largely sells goods supplied to it by proprietary brands, its customer ratings system not only builds trust in the products, but in Amazon as an etailer.
But retailers could do more to encourage consumers to share positive stories about their shopping experiences, in the same way they will take to the internet to complain about poor service.
Methodology
REaD Group's Retail Trend Report surveyed 2,000 adults from across the UK.
To assess how trusted different retailers were, REaD asked respondents: Which of the retailers listed do you most and least trust with your personal data?