Retailers have overestimated the consumer appetite for Black Friday this year, according to exclusive Retail Week data.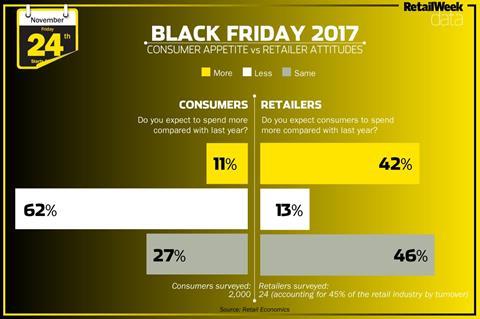 The research identified a disparity between how retailers expect Black Friday to play out, and how consumers are really feeling about it.
Nearly half the retailers surveyed by Retail Economics think Black Friday demand will be higher than last year, as the event becomes a mainstay in the retail diary.
However, they may be quite off the mark as Black Friday's appeal seems to be wearing off: Retail Economics found that only 19% of consumers were looking to take advantage of Black Friday promotions, down from 21% last year.
What's more, 62% of consumers said they will spend less this year than last.
This will disappoint firms that are eagerly anticipating the event as an opportunity to recover from October's tough trading, when non-food sales slipped 2.1%.
How much are shoppers planning to spend?
According to separate data compiled for Retail Week by ICM, shoppers will spend an average of £223.59 on Black Friday deals this year.
The Retail Economics poll found that two thirds expect to spend less than £200, which its chief executive Richard Lim says suggests that shoppers are not holding out for the Sale event to make big-ticket purchases.
However, 6% of respondents plan to splash the cash this year and offload more than £1,200.
Older people appear to be getting onboard with the idea – with over 65's planning to spend more this year.
However, younger people – despite being the age group most likely to engage with Black Friday – are starting to turn their backs on it.
"While younger consumers still showed the greatest propensity to spend during Black Friday, the proportion fell sharply on the previous year," Lim says.
What will retailers buy?
Nearly a quarter of consumers said they were most likely to buy an electricals product during Black Friday.
Indeed, electricals specialists like Currys PC World, Argos and Amazon have striven to take ownership of the Sale event since it landed in the UK a few years ago.
This year, these retailers are optimistic that they will achieve their biggest Black Friday yet, with Currys PC World kicking off its event on Monday this week and Argos not far behind it.
It figures then that these three companies appear in the list of retailers shoppers plan to visit around Black Friday. ICM data unveiled that 65% of shoppers expect to buy from Amazon this year, with Argos the second most popular.
Currys PC World came in joint fourth place, with 19% of respondents saying they plan to shop there during the Sale event.
Do shoppers actually like Black Friday?
According to ICM, three quarters of 2,000 consumers surveyed feel there is too much fuss made about Black Friday.
The data also rejects the theory that shoppers delayed spending in October in order to get a Black Friday bargain – half the respondents disagreed that this was the case – and found that only 37% of shoppers view it as a stellar Christmas shopping opportunity.
How will they shop?
Retail Economics found that a third of shoppers plan to spend more online during Black Friday this year than last.
But, once again, retailers' expectations varied from consumers' responses, with three quarters of retailers believing that shoppers would spend more online this year.
The research also found that more than a third of shoppers plan to use click-and-collect for some of their Black Friday shopping.
Methodology
ICM took a poll of 2,004 consumers.
Retail Economics surveyed 2,000 consumers and 24 companies accounting for 45% of the retail industry by turnover. To read the full report, click here.
Sources: Retail Economics, ICM